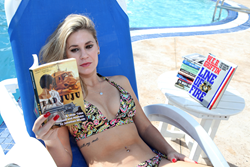 "Cayo Hueso — or Island of Bones as Key West was originally named — is a perfect setting for intrigue, and many popular writers have used the island as the backdrop for their mysteries..."
Key West, Florida Keys (PRWEB) April 30, 2014
Key West, Florida, has long been renowned as a writer's haven and locale of adventure and tropical intrigue. Now, the island where Tennessee Williams and Ernest Hemingway found their inspiration will be the setting for the first Mystery Writers Key West Fest, a gathering of premier South Florida based true crime, mystery and suspense writers. The inaugural celebration of sleuthing will take place this coming June 13-15, with the theme "Murder and Mayhem in Paradise."
Sponsored by the Mystery Writers of America, the Florida Keys Council of the Arts, and the Key West Citizen newspaper, the Fest is open to authors, aspiring authors, and non-writing mystery-buffs alike. Registration is $98 and includes five separate panel events with acclaimed crime fiction and true crime authors, a drawing for a "walk-on" cameo appearance in an upcoming mystery story, buffet luncheon with best-selling mystery and detective fiction author William E. Butterworth IV (aka W.E.B. Griffin), a group book signing event, one-on-one consultations with publishing experts, a Key West bar stroll, and a noir movie night at the award winning Tropic Cinema, hosted by author Mike Dennis.
The Mystery Writers Key West Fest is the brainchild of co-founders Shirrel Rhoades, a publisher (Absolutely Amazing eBooks) who has held executive positions with Reader's Digest, Scholastic, Harper's, Marvel Entertainment and other well-known publishing companies, and author Michael Haskins, creator of the popular Mad Mick Murphy mystery series.
Why a mystery writers fest in Key West? "Cayo Hueso — or Island of Bones as Key West was originally named — is a perfect setting for intrigue, and many popular writers have used the island as the backdrop for their mysteries," commented Rhoades. "Haskins and I had already founded the Key West Writers Bloc to promote authors and their work, so we thought, why not bring together a gathering of acclaimed South Florida and Key West authors to talk with fans— not just about whodunnit— but about how they actually do it."
Attendees to the inaugural Mystery Writers Key West Fest will join co-founders Rhoades and Haskins along with nearly two dozen crime and adventure literary figures, including special guest author W.E.B. Griffin; New York Times bestselling author Heather Graham; novelist and bestselling true crime author Carla Norton; Don Bruns, award winning author of the Caribbean Mystery Series; Sandra Balzo, award winning author of crime fiction in two mystery series; Jeremiah Healy, creator of the John Francis Cuddy private-investigator series and author (aka Terry Devane) of the Mairead O'Clare legal thrillers; popular crime and noir fiction novelist Mike Dennis; mystery/adventure/gay romance author Neil S. Plakcy; Nancy Cohen, award winning author of romance and mysteries; and journalist/true crime writer Terry Schmida.
DoubleTree by Hilton Grand Key Resort is the main venue for the sleuthfest, and is offering a "killer" early bird rate, available June 12-15, for those who book rooms before May 10.
For registration, hotel room booking link and further information, visit http://www.mysterywriterskeywestfest.com.