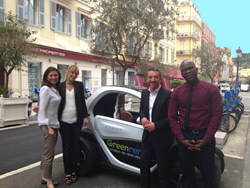 Everybody wins with clean energy solutions.
Nice, France (PRWEB UK) 3 May 2014
Nice Properties Real Estate Group has formed a new partnership with GreenRent electric car rental company in Nice. The partnership has also prompted the launching of a new corporate social responsibility campaign called MyGreenCity, focused on promoting clean energy initiatives for the city of Nice.
The bilateral partnership with GreenRent, who launched their fleet in 2010, is well known in Nice for their electric fueled Renault Twizy fun car rentals. Their entire fleet of clean energy cars and scooters are offered with direct key-in-hand delivery of the vehicle to clients wherever they are on the Cote d'Azur. Clients of Nice Properties will now benefit from an additional 10% discount on their car rental.
Michael Fusaro, CEO of Nice Properties explains, "We are so pleased with our new partnership with GreenRent. In the last few years Nice has been taking great measures to improve the city's sustainable infrastructure, so this was just the perfect opportunity for us to support Nice in its move towards becoming an eco-friendly city."
He further adds, "Everybody wins with clean energy solutions."
GreenRent CEO Albert Gasore simply explains, "Keep calm and go green."
About Greenrent
GreenRent car rental service is located 6 Bis rue Meyerbeer in Nice and is open Monday to Saturday from 8:30 to 6:30pm, Sunday from 10:00am to 5:30pm and can be contacted at +33 983 809 816.
About Nice Properties
Nice Properties Real Estate Group is the French Riviera's leading local real estate group specializing in the sale of luxury villas, vacation homes, apartments, new build residential projects and commercial real estate. Offering the most effective professional multi-lingual network of real estate professionals with 5 agencies along the Cote d'Azur from Cannes to Villefranche and two specialized departments for New Build and Commercial real estate. Providing a seamless platform for the best real estate opportunities and investments on the French Riviera along with a strategic marketing portfolio that covers both national and international markets. To find out more information please visit http://www.nice-properties.com.