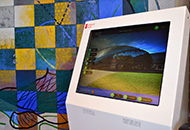 "I can design service options that target students (during specific periods)." – William Carter, Director of Admissions, University of Tennessee Health Science Center
Franklin, NH (PRWEB) May 06, 2014
For the University of Tennessee Health Science Center, which serves a community immersed in the latest technology, the admissions department developed a plan to better serve students through the use of digital interactive media. Prior to the fall semester in 2013, Director of Admissions William Carter was tasked with creating a full-service student health center from the ground up, a "one-stop shop" as he put it.
Development of the project involved a group of department staff members. The team examined several ideas for providing a better visitor experience. Carter's history developing health centers led him to propose some key recommendations that had worked in other settings. One solution would address a primary concern for the center: how to move student intake along faster. Two digital kiosks from Advanced Kiosks providing a queuing system and wayfinding software were the solution the esteemed medical school approved.
There were two primary motivators for adopting this technology at the Health Science Center. First, the department sought ways to shorten intake times and streamline the visitor registration process. With students balancing limited time budgets, Carter recognized there was a need to notify students waiting to be served what their estimated wait time would be. In addition, students felt the traditional pen-and-paper registration process was cumbersome and archaic.
Second, Carter and his staff sought to improve collection, organization, and reporting of visitor data. His team wanted to be able to analyze data that would reveal trends to which they could respond more effectively with appropriate staffing levels or greater resources. For example, once the Freestanding kiosks were installed at the entrance to the lobby and waiting area, Carter found that during January 2014, 80% of visitors to the center were second-year students from UT's College of Medicine. "With that kind of information," Carter said, "I can design service options that target those students (during specific periods)."
Prior to the installation of the check in kiosks (coated in bright Volunteer orange), staff would spend considerable time managing intake data. Carter admitted it was challenging to improve operations using the labor-intensive practices the department had in place. "We have unique needs not found in other industries", he noted, "or even within the higher education community as a whole". As such, the demand to create a unique solution that would fulfill the department's objectives was a daunting challenge. Its needs could not be solved with Advanced Kiosks' existing out-of-the-box application. The development team worked closely with Carter to modify the program to suit the department's unique requirements.
Each kiosk was loaded with Advanced Kiosks LobbyAttendant™, which provides a robust building directory and visitor services platform, and a customizable queuing solution (complete with a student ID card reader that stores check-in information with a swipe), which displays the intake stream through remote wall-mounted monitors. Qline allows kiosk administrators to customize intake questions to suit specific data collection needs, for example, "What is the purpose for your visit today?" and "Have you visited the Health Center in the past?". The kiosks provides staff with useful information including demographic data, intake times, and other user-specific attributes.
Carter is enthusiastic about the solution – and he isn't the only one. Students have provided overwhelmingly positive feedback through surveys delivered from the kiosks. Their comments show an appreciation for the check-in technology in a world where they are engaged with technology in many other areas. In fact, the student body recognized how helpful the kiosk installation would be, it voted to allocate a portion of UT's activity fee to the purchase of the kiosks.
For more information about how well the University of Tennessee solution could work for your higher education setting, contact Advanced Kiosks today!