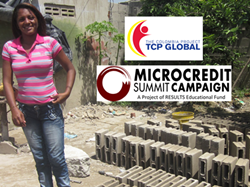 TCP Global joins a global coalition to helping 100 million families lift themselves out of poverty.
Washington, DC (PRWEB) April 30, 2014
The Microcredit Summit Campaign welcomes TCP Global as the newest Campaign Commitment member, joining a global coalition of organizations committed to specific, measurable, and time-bound actions to advance the Campaign's goal of helping 100 million families lift themselves out of poverty.
TCP Global is a pro bono consulting service working to assist other organizations in the replication of its successful microcredit model implemented under The Colombia Project. The Colombia Project helps individuals affected by the violence in Colombia to rebuild their livelihoods by partnering with grassroots organizations and integrating small loans into existing development interventions that target the poor and marginalized. In addition, The Colombia Project equips their partners with the tools, capacity, and funds to implement the microfinance component that complements the goals of the existing intervention. Thus, project participants are provided with start-up funds that complement the livelihood activities they are already engaged in, thereby benefiting from a multi-pronged attack on poverty.
"The TCP Global team is ready to apply lessons learned over the last 14 years to help other nonprofits add microloans to existing anti-poverty tool-kits," said Helene Dudley, Chairman of The Colombia Project.
TCP Global will apply its wealth of experience to establish sustainable microfinance programs through pro bono assistance to organizations already working effectively in impoverished communities. Specifically, TCP Global will:

In June 2014, make a presentation at the National Peace Corps Association Conference to advise Returned Peace Corps Volunteer communities of the availability of pro bono assistance in adding microcredit to their existing anti-poverty programs.
By July 1, 2014, publicize information on TCP Global's pro bono microcredit assistance in both Rotary International and St. Vincent De Paul Society publications in order to acquire a minimum of 5 prospective microloan implementation partners.
By October 1, 2014, create a cloud-based loan tracking system with options for multiple languages and currencies to ensure complete and accurate loan records and relieve loan program administrators of an accounting burden. Loan information would be entered from remote sites around the world, with detail and summary loan information tracked online, by loan site. System will include a phone app.
By November 1, 2014, secure Rotary funds for a minimum of one new microcredit program in a developing country.
During calendar year 2014, issue a minimum of 250 microloans through the existing Colombia Project microfinance program.
By January 1, 2015, finalize Rotary International grant reports for the first pro bono microcredit replication in Barranquilla, Colombia, documenting microloans to a minimum of 100 families at the lowest economic level during the lifetime of the grant.
By January 1, 2015, identify a permanent host and database administrator for the loan tracking system.
By January 1, 2015, assist a minimum of 3 organizations in developing countries to find funding, train loan administrators and implement microfinance programs in the world's poorest communities, using the sustainable Colombia Project model.
Read the TCP Global Commitment letter.
The Campaign looks forward to welcoming this new partner in the global coalition and sharing their progress towards the Commitment achievement at the 17th Microcredit Summit. This year's Summit will be held in Merida, Mexico in partnership with the Ministry of Economy (Mexico) and its National Program for Financing Microentrepreneurs (PRONAFIM) and will focus on the theme of "Generation Next: Innovations in Microfinance."
For more information on Commitments and the 100 Million Project, visit http://www.microcreditsummit.org or write to mycommitment[at]microcreditsummit[dot]org.
####
The Microcredit Summit Campaign (the "Campaign"), a project of RESULTS Educational Fund, is the largest global network of institutions and individuals involved in microfinance and is committed to two important goals: 1) reaching 175 million of the world's poorest families with microfinance and 2) helping 100 million families lift themselves out of extreme poverty. The 100 Million Project (focused on Goal 2) was launched in response to World Bank President Jim Yong Kim's call to end extreme poverty by 2030 and in recognition that full financial inclusion can only be achieved by targeting the extreme poor. The coalition of Campaign members announcing Commitments is aimed at motivating microfinance stakeholders to provide products and services that reach the extreme poor and facilitate their movement out of poverty.