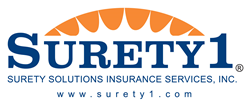 In most cases, a firm quote can be obtained on the same day the bond application is submitted. Even at the new limits, financial statements are usually not required.*
Sacramento, CA (PRWEB) April 30, 2014
Surety Solutions Insurance Services, Inc. (Surety1) has added the soon to be required $100,000 Immigration Consultant Surety Bond to its library of on-line applications.
Effective July 1, 2014 the State of California is raising the amount of the Immigration Consultant Surety Bond from $50,000 to $100,000. Surety1 has added an application for the revised bond amount to its online application portal and can provide fast service at great rates. In most cases, a firm quote can be obtained on the same day the bond application is submitted. Even at the new limits, financial statements are usually not required.*
Pursuant to the new provisions of California Business and Professions Code section 22443.1, Effective July 1, 2014 only individuals who have complied with the new law will be posted on the Secretary of State's website as being active immigration consultants. Other individuals will not be listed as being active, even if they were previously authorized to engage in the business or act in the capacity of an immigration consultant prior to July 1, 2014.
Surety Solutions Insurance Services, Inc. is an independent insurance agency based in Rancho Cordova, California and licensed in all fifty states. Surety Solutions Insurance Services, Inc. specializes in the placement of surety bonds and other specialty insurance products.
For more information on obtaining a California Immigration surety bond, contact Surety Solutions through its website, http://www.surety1.com, by calling toll-free, 877-654-2327, or by emailing info(at)surety1(dot)com.
Surety Bonds for CA Immigration Consultant within 24 hrs from Surety1.
*subject to underwriter approval