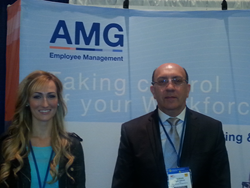 Tradeshows are a great way for us to see what's trending in a particular industry and hear what our end users' struggles are with time and attendance. - Talia Weldon
Los Angeles, CA (PRWEB) April 29, 2014
For the last eight years, the HR and Hospitality Expo has attracted thousands of attendees from around the country. Held this year on April, 28th and 29th, 2014 at The Aria Resort and Casino in Las Vegas, the event offers insights into and presentation of new products and innovations for those in hospitality human resources - including hotel and restaurant management and workers in employment law. With more than 40 exhibitors, the expo serves as an exceptional opportunity for both, networking and education.
Among 2014's vendors is AMG Time. Demonstrating a number of time management solutions, Los Angeles-based AMG is represented by company President, Tony Galstyan and Talia Weldon. Galstyan and Weldon are on-hand to introduce the features and benefits of a number of products and services to automate time recording in the hospitality industry.
Regarding this years event, Ms Weldon says, "Tradeshows are a great way for us to see what's trending in a particular industry and hear what our end users' struggles are with time and attendance."
For more information, please visit: http://www.amgtime.com.
About AMG Employee Management, Inc.
AMG Employee Management, Inc. is a supplier of time attendance products and services based in Los Angeles, California.
The company's goal is to assist their clients run their businesses more efficiently, helping them to gain greater insight into their business activities, and providing them with lasting benefits by automating their time attendance business processes.