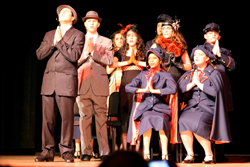 Delray Beach, FL (PRWEB) April 30, 2014
Grandview Preparatory School presents its annual musical production, Guys and Dolls, on May 10, 2014 at Crest Theatre.
This beloved musical, which premiered on Broadway in 1950, ran for 1,200 shows and won the Tony Award for Best Musical. It has since had many revivals and a film adaptation starring Marlon Brando, Jean Simmons, Frank Sinatra, and Vivian Blaine.
A snapshot of the gambling underworld of New York City in the 1920′s and 1930′s, the musical follows Nathan Detroit's quest to find money to pay for his floating crap game, "The Oldest Established Permanent Floating Crap Game in New York." The play includes many famous musical numbers, including "Luck Be a Lady" and "Sit Down, You're Rockin' the Boat."
The production is directed by Helen Buttery, with music direction by Michael Yannette and choreography by Katie Petronio. It will be presented for the public at the Crest Theatre at Delray Beach Center for the Arts, 51 N. Swinton Avenue, Delray Beach on Saturday, May 10 at 2:00 PM and 7:00 PM.
Single tickets are $15 and $20 and are available by calling 561-416-9737.
About Grandview Preparatory School
Grandview Preparatory School is an independent, co-educational day school offering enrollment for students in Early Childhood through Grade 12. Blending traditional and innovative learning experiences, Grandview creates an atmosphere of engagement for students in a community that emphasizes values and character. Founded in 1997, the school campus is located less than a mile from the ocean in Boca Raton, Florida. For more information, please visit http://www.grandviewprep.net.