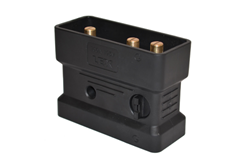 "The PinSaver™ Stage Pin Shroud Adapter meets a growing entertainment industry concern of damaged pins, and the costs associated with assembly repair and downtime."
Shelton, Connecticut (PRWEB) April 30, 2014
Lex Products has developed the PinSaver™ Stage Pin Shroud Adapter, the first-ever device designed to protect brass pins of male stage pin connectors and lengthen the life of cable extensions. The shroud design protects exposed brass pins from impact and prevents damage that can result in inoperable cable extensions.
Compatible with major stage pin manufacturers, the 100 Amp 125 Volt Shroud Adapter is specifically designed to prevent crushed or bent brass pins and maintain proper mating retention between male and female connectors, while additionally minimizing costly downtime due to repair and maintenance of male connectors.
Bob Luther, CEO of Lex Products Corp., said, "The PinSaver™ Stage Pin Shroud Adapter meets a growing entertainment industry concern of damaged pins, and the costs associated with assembly repair and downtime." He added, "This product is durable, ergonomic, and addresses the need to protect stage pin connectors during transport, installation, storage and extended use. The Shroud Adapter mates with all major stage pin connector manufacturers, and is ideal for use with the Lex Products EverGrip® Molded Stage Pin Extensions."
Unique Design
The PinSaver™ Shroud Adapter features rugged, impact-resistant, thermoset silicone rubber construction, which meets UL 94 V0 flammable material classification. A pin lock feature securely attaches the shroud adapter to the male connector's ground pin for easy installation and removal while a molded in thru-hole conveniently allows for tie lines for cable support.
Protection and Convenience
Solid brass pins and contact design provides excellent conductivity when mated with connectors. Weather-resistant neoprene shroud gaskets help prevent infiltration of moisture and contaminants when devices are mated. Amperage and voltage ratings are "molded in" on both sides of the adapter for easy identification. The matte black exterior is ideal for motion picture, television production, stage and studio environments.
About Lex Products:
Lex Products Corporation is a leading manufacturer of innovative power distribution and control systems for demanding markets, including entertainment, industrial and the military. Founded in 1989, the company specializes in portable power systems including distribution boxes, cable assemblies, cable protectors and other products, designed to withstand rough use and harsh environments. Lex Products is ISO 9001:2008 certified for all production, operations and support services across its three U.S. facilities.
Headquartered in Shelton, Connecticut, the company also has offices in Sun Valley, California and the United Kingdom. In 2012, Lex Products ranked 77th in the Manufacturing segment on Inc. Magazine's Inc. 5000. For more information, visit http://www.lexproducts.com or call 1-800-643-4460.