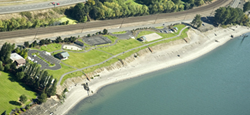 Port of Kalama pathways and trails are popular recreational destinations for pedestrians and bicyclists.
Kalama, Washington (PRWEB) April 30, 2014
Cowlitz County has awarded the Port of Kalama a $30,000 grant for the Port of Kalama Trail Improvement Project. The grant enables the Port to improve pedestrian and vehicle separation barriers and meridians along West Marine Drive. The improvements are part of the plan to enhance recreational opportunities at the Port and are expected to be completed by the end of 2014.
"The pathways have become a very popular recreational destination for pedestrians and bicyclists, while the marina is a busy hub for boating and fishing. These improvements will really enhance the safety for all who use the Port's parks," says Jacobo Salan, development manager, Port of Kalama. "We cannot thank Ron Junker, facilities services director at the county, and the County enough for the support of this project which assists the Port in meeting its mission."
About Port of Kalama – Where rail and water meet:
The Port of Kalama is located in Southwest Washington on the Columbia River and immediately off of Interstate Highway 5. The port exists to induce capital investment in an environmentally responsible manner to create jobs and to enhance public recreational opportunities. Port of Kalama's industrial area includes five miles of riverfront property adjacent to the 43' federally-maintained deep draft navigation channel of the Columbia River. The Port is served by the Burlington Northern/Santa Fe and Union Pacific railroads. There are over 20 industries located at the Port of Kalama, employing over 830 people. Port of Kalama offers all the superior facilities businesses need to thrive, and an unsurpassed quality of life. The port offers shovel ready sites, a new Industrial Park, state of the art Marine Terminals and transportation accessibility to rail and highway all just a 30 minute drive to the Portland International Airport. Port of Kalama also offers high-bandwidth communications, with dual access fiber-optic service to Seattle and Portland. Properties currently available at the port for businesses wishing to expand and thrive: Visit http://portofkalama.com/industrial_property.