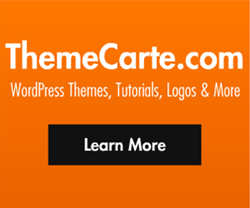 We are very pleased to offer our members, one of the most unique, customizable, multi-purpose WordPress themes available today, says Bobby Ryan, CEO of Theme Carte.
Houston, TX (PRWEB) April 30, 2014
Theme Carte (ThemeCarte.com), a Houston-based company providing premium WordPress Themes, Training, Plugins and more, today, announced the release of its featured theme of the month; ComPack 2.0; likely the last theme you'll ever need. Unlike most other "feature rich themes" on the internet, ComPack 2.0 does not pack in additional plugins for enhanced features. Everything is built-in to its powerful integrated control panel. This premium theme guarantees performance, without glitches as a result of messy plugin conflicts.
ComPack 2.0 is an excellent responsive and premium WordPress theme. The flexible, multipurpose theme is packed with features and has a clean and professional design which can be used for any type of website including professional blogs, online magazines and business websites. It has a responsive layout which adjusts for any screen and device making it mobile-retina ready and works perfectly on iPhones, iPads, Androids and all other mobile devices.
Theme Carte provides its members with a Featured Theme every month. For May 2014, ComPack 2.0 was released after several weeks of vigorous testing. WordPress recently updated its platform to the long awaited 3.8.1. Shortly after that, the 3.9 update was made available. With such quick software updates, it became necessary to completely test the theme's compatibility. ComPack 2.0 passed with flying colors. As many WordPress users and developers realized, certain popular plugins and themes no longer work or are supported with the new release of WordPress. Fortunately, all content on ThemeCarte.com is tested to function on all new releases of WordPress. Leveraging its long-time involvement with the Open Source community, Theme Carte has extended one of the most effective WordPress Themes to its growing membership base. Theme Carte's customers have the benefit of getting unlimited access to all of its vast Word Press resources, including ComPack 2.0, for one low price. "We are very pleased to offer our member's one of the most unique, customizable, multi-purpose themes available today, says Bobby Ryan, CEO of Theme Carte."
ComPack 2.0's advanced Control Panel includes powerful features such as a responsive layout, light box, flexible sliders, gallery, flexible pricing table and more. The key feature of ComPack 2.0 is its drag and drop Page Builder module. Even novice users can quickly build pages using this unique feature. Members of Theme Carte can start downloading ComPack 2.0 on May 1st. With the anticipation of its release, Theme Carte expects it to be their most downloaded theme to date.