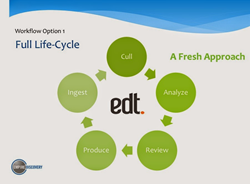 It just makes commercial sense. Our clients want to move away from outsourced, per gigabyte charging structures.
New York, NY (PRWEB) May 01, 2014
"Law firms have already embraced managed service offerings for core operations such as accounting, case management, marketing and research so there's no reason why they can't do it for litigation," said Frank Canterino, CTO and co-founder of Empire. "It just makes commercial sense. Our clients want to move away from outsourced, per gigabyte charging structures. They want full administrator level control over their chosen litigation support software platform without the complexity and cost of purchasing, implementing and supporting the hardware that is needed to run it. "
The new offering reflects the general industry trend towards Software as a Service (SAAS) solutions. A January 2014 Forrester report predicts that SaaS adoption will surpass the 50% mark within the next 12 months — with adopters using an average of four SaaS solutions (a number that Forrester expects will double in one year's time).
Jo Sherman, EDT's founder and CEO said, "We have designed our software from the ground up to work within a virtualized, managed services environment. It's exciting to be able to offer this alternative to clients who may have traditionally wanted an internal installation behind the firewall. It delivers the best of both worlds – control without investment in infrastructure."
Empire have also bundled this offering as a simple monthly charge that can be passed on as a disbursement, so there are no direct out of pocket software licensing expenses for the firm.
EDT software is designed by lawyers, for lawyers with the aim to make it so easy to use that virtually no training is required. It streamlines litigation by reducing data movements and keeping everything in one database throughout the whole case life cycle, from processing to analysis, review, production and presentation. EDT's Early Case Assessment offering can also integrate with legacy review platforms like Relativity, Summation, Concordance or Ringtail.
While EDT is a new entrant to the US market, it is well established in the UK, Australia and Asia where its software has been licensed by some of the largest Global 100 law firms and corporations for many years.
Empire has been servicing its expanding client base in the litigation and investigation market for the last 2 years. The company has attracted and grown a talented team of technology specialists and has developed a reputation for high quality, creative solutions in a market that is becoming increasingly competitive and commoditized.
About Empire Discovery
Empire Discovery is a leading eDiscovery and consulting firm with more than 50 years of combined litigation support experience. Empire services the full life cycle eDiscovery process from Collection, Early Case Assessment, Processing, Hosting, Review and Production. Empire Discovery is headquartered in New York, with regional offices in Washington DC, Philadelphia and Austin, Texas. For more information visit http://www.empirediscovery.com.
About EDT
For over a decade EDT has established an international reputation as the first provider of end-to-end software to manage disputes, investigations, and litigation. EDT has been embraced by an international blue chip client base including GLOBAL100 law firms, top tier accounting firms, corporations, government agencies, forensic experts and consulting service providers. For more information, please visit us at http://www.discoveredt.com.