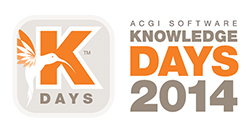 Knowledge Days 2014 will be ACGI's biggest and best-attended users conference yet
Columbia, MD (PRWEB) April 30, 2014
ACGI Software®, the trusted leader in association management software (AMS), today announced the final slate of resource partners that will be exhibiting, sponsoring and delivering sessions at its upcoming software users conference, Knowledge Days 2014 (KDays 2014) – May 4 to 6, 2014 at the Sheraton Inner Harbor Hotel in Baltimore.
ACGI's Resource Partner Program is open to independent software vendors and service providers offering a range of value-added technologies and services that enhance or extend the capabilities, functionality and impact of ACGI's Association Anywhere® AMS. To help its customers gain greater awareness of the various solutions available, ACGI invited resource partners to participate in KDays 2014 as presenters, exhibitors, and sponsors.
This year, 10 resource partners are participating at KDays. Providing Web and mobile development services, Web content management, mobile event applications, online communities and private social networks, digital marketing platforms, learning management systems, webcasts and hybrid events, tradeshow services, and other value-added solutions, they are:

Platinum Sponsor: System Solutions, Inc.
Gold Sponsors: CommPartners, EventMobi, Higher Logic, Informz, Results Direct, Socious
Silver Sponsors: Expo Logic, HighRoad Solution and Vanguard Technology
"Knowledge Days 2014 will be ACGI's biggest and best-attended users conference yet," said Kevin Hostutler, president and CEO, ACGI Software. "We are grateful for the participation of our resource partners, whose generous support, knowledge sharing, and terrific solutions will help us make Knowledge Days 2014 an outstanding event for our customers."
Registering for Knowledge Days 2014
Registration for Knowledge Days 2014 is open to all current ACGI Software customers and recognized association management consultants with approval by ACGI. For additional information and registration options, please visit http://www.acgisoftware.com/kdays2014/.
About ACGI Software:
ACGI Software founded in 1996, develops and delivers cloud-based association management software (AMS) and best-practice services. The company's Association Anywhere AMS integrates with an association's Web, mobile and business applications, automating administrative and financial operations, enhancing the member experience and lowering operating costs. Association Anywhere AMS is chosen by leading associations and association management companies. Learn more about ACGI by visiting: http://www.acgisoftware.com.