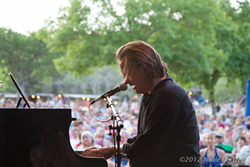 SoldierSongs exists to serve our nation's military heroes with FREE music lessons, instruments when necessary, and a means of creative expression".
Kerrville, Texas (PRWEB) April 30, 2014
The Kerrville Folk Festival 2014 opens on Memorial Day weekend, beginning on Thursday May 22 with a Celebration of the Life of Founder Rod Kennedy. The next four nights of the Holiday weekend continue with concerts at the Kennedy Theater Mainstage. The gates open at 6PM, concerts begin at 7PM.
The line - up for the first weekend May 22 – 25 features Ray Benson (of Asleep at the Wheel fame) & MilkDrive, Steve Poltz, Parker Millsap, Dale Watson, Judy Collins, Tish Hinojosa, Moors & McCumber, John Flynn, Terri Hendrix, Ian Moore, Steve Seskin & Allen Shamblin, Mary Gauthier, Brother Sun and Vance Gilbert.
On Sunday June 1st the Welch Family Throwdown, including Kevin Welch and son Dustin and daughter Savannah, takes the stage. Dustin and Kevin will be representing the SoldierSongs organization and Charles Gallagher from Voices of a Grateful Nation will be at the Kerrville Folk Festival Foundation booth with some of the vets that are taking advantage of the program. http://soldiersongs.org/aboutus/
"SoldierSongs exists to serve our nation's military heroes with free music lessons, instruments when necessary, and a means of creative expression". This is a great night to attend the Festival and meet some of the men and women that have served our country through their military service.
On Monday May 26 there will be a Steven Fromholz Life Celebration with multitudes of guest artists singing Steve's songs and telling his stories. It will be a great night of music and a special gathering to remember one of the best songwriters to grace our planet.
The second weekend May 30 – June 1 includes Dana Cooper, Trout Fishing in America, Peter Yarrow of Peter, Paul And Mary, Shake Russell & Michael Hearne, James Hill, Brennan Leigh & Noel McKay, Ray Chesna, Ragged Union, Mike Blakely, Welch Family Throwdown, Ronny Cox, Sarah Sample & Edie Carey And Brewer & Shipley.
And the third and final weekend June 6 – 8 Steve Forbert, Jeff Black, Harpeth Rising, Jimmy LaFave, Eliza Gilkyson, Billy Jonas, Albert & Gage, Zoe Lewis, David Amram & The Amigos, Bobby Bridger, Chuck Pyle and Larry Joe Taylor.
The Finalists for the 2014 Grassy Hill Kerrville New Folk Competition for emerging songwriters have been announced. The concerts.will be held on the first Saturday and Sunday of the festival (May 24th and 25th), from 1 to 4PM. From the 32 Finalists, six Winners will be awarded prizes and scholarships.
Saturday May 24
Jan Krist & Jim Bizer Franklin MI
David McMillin Chicago Illinois
Marc Douglas Berardo Westerly RI
Addie Brownlee New York NY
Chase Gassaway Austin TX
Ellen Tipper Appleton MA
Charlotte Thistle Seattle WA
Matt Nakoa Brooklyn NY
David Berkeley Santa Fe NM
Katie Gosnell Austin TX
Dan Weber Vancouver WA
Carolina Story Nashville TN
Rosie Tucker Los Angeles CA
Connor Garvey Portland ME
Savannah King Buffalo NY
Brittany Ann Tranbaugh Easton PA
Sunday May 25
Frank Martin Gilligan Dickinson TX,
The Lovebirds San Diego CA
Jeffrey Martin Eugene OR
Brad Boyer Friendswood TX
Jenna Lindbo Portland ME
Aaron Howard Phoenix AZ
Anna Paddock Brooklyn NY
Justin Pecina Gunter TX
Ben Bochner Eugene OR
Brad Cole New York NY
David White Franklin TN
Mariana Bell Los Angeles CA
Roy Schneider Duo Fort Myers FL
Cat Terrones San Pedro CA
Caroline Spence Nashville TN
Chris Ronald Vancouver BC Canada
Held each year since 1972, the Kerrville Folk Festival is the longest continuously running festival of its kind in North America. Over the years it has become known internationally as a Mecca for singer songwriters of varying musical styles… a place where those just beginning to develop their skills have the opportunity to play their music alongside those who are masters. Emerging songwriters as well as teachers are drawn to the Festival's many learning opportunities, such as the 34th Annual Songwriters School May 26 - 29; the Blues Guitar Workshop May 27 - 29; Harmonica and Ukulele Workshops June 2 - 4. The faculty and sessions information is on the website at http://kerrville-music.com/workshops.htm.
There's truly something for everyone at this festival, from camping, campfire jam sessions, concerts and activities for kids, "Ballad Tree" song sharing sessions, Hill Country bike rides and canoe trips on the Guadalupe to Sunday Folk Song Services, Saturday Shabbat Services and much more. This is one musical celebration that must not be missed! A complete festival schedule, information and tickets can be found at http://www.kerrvillefolkfestival.org or by calling the festival office at (830) 257-3600. Ticket prices range from $25 to $40 depending on the particular day, although you can save by purchasing your tickets early online. Campground Access and Parking Lot fees are included in the ticket price.
Located at Quiet Valley Ranch, nine miles south of the Texas Hill Country resort community of Kerrville, the 43rd annual Kerrville Folk Festival will run for 18 straight days, from Thursday, May 22 through Sunday, June 8, 2014. Discounted tickets are on sale now at http://www.kerrville-music.com/tickets.htm.
The Kerrville Folk Festival is owned by the Kerrville Folk Festival Foundation, a 501(c)3 non-profit organization that is dedicated to the support of emerging songwriters and folk music in all its forms.
# # #
If you'd like more information about this topic, or to schedule an interview with Dalis Allen, please call the Festival Production Office at (830) 257-3600 or e-mail info(at)kerrville-music(dot)com.