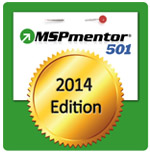 Cal Net Technology Group has been included in the 2014 MSPmentor Top 501 Global Edition for managed service providers worldwide
Los Angeles, CA (PRWEB) April 30, 2014
Cal Net Technology Group, a leading IT consulting and technology services firm, is pleased to announce the company has been included in the prestigious 2014 MSPmentor Top 501 Global Edition Managed Services Providers (MSPs) list, by Nine Lives Media, ranking in the top 50 in North America.
"MSPmentor congratulates Cal Net Technology Group on this unique honor," said Amy Katz, president of Nine Lives Media, a Penton business. "Qualifying for our MSPmentor 501 Global Edition puts Cal Net Technology Group in rare company."
The company has also been recognized on the Channel Company (CRN) Elite 150 list, a subgroup of the MSP500—a new annual list identifying the most successful technology providers and consultants in North America. Recognition is awarded to technology companies with a focus on improving efficiencies, cutting costs, and more. Portions of the 2014 MSP500 list can be viewed in the February/March issue of CRN magazine.
Cal Net Technology Group is honored to be included on both lists. "This is an incredible testament to world-class level of service and deep technical expertise that Cal Net has built its reputation on," said Luca Jacobellis, President of Cal Net Technology Group. "Being named on these lists for a 5th consecutive year speaks to the trust we have built with our partners, and our ability to keep our clients on the cutting edge of technology with new services such as CloudNET and our cloud services product portfolio."
Cal Net Technology Group provides IT and computer support services as well as cloud services, information security, technology consulting, and emergency repairs.
About Cal Net Technology Group
Cal Net Technology Group is the premier provider of outsourced IT, cloud, and Unified Communication solutions in the Los Angeles and Orange county area, servicing organizations with 10-1000 employees. Through its TECManage, COManage, SYSManage service offerings, and ShoreTel implementation and support services, Cal Net excels in tackling the complexities of partially and fully outsourced IT and voice systems implementation and support services with onsite and remote delivery models. They are based in Los Angeles with offices in Anaheim. For help, please visit their website or follow the company on their Facebook, Google+, and Twitter pages.
Businesses interested in managed technology services can contact Cal Net Technology Group by phone at (866) 999-2638 or visit the Cal Net Technology Group website at http://www.calnettech.com for more information.