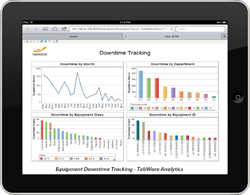 AssetPoint's expertise in industrial sectors enables customers to get TabWare up and running quickly and easily.
Greenville, SC (PRWEB) April 30, 2014
AssetPoint, a leading Computerized Maintenance Management System / Enterprise Asset Management (CMMS / EAM) solution provider, announced record revenue growth in the first quarter of 2014. The record growth was generated primarily by new customers in a variety of industries.
AssetPoint's expertise in industrial sectors enables customers to get TabWare up and running quickly and easily. The TabWare CMMS / EAM solution was designed by maintenance professionals, and AssetPoint's heritage is in asset-intensive industries, such as Oil & Gas, Discrete & Process Manufacturing, Food & Beverage, Chemicals, Mining and Metals. With a renewed focus on these industries in 2014, the first quarter's success can be attributed to organizations choosing TabWare over other maintenance management solutions based on AssetPoint's deep-domain industry experience and TabWare's functional configuration ability.
TabWare's robust Analytics capabilities have also created multiple benefits in managing business more effectively. Customers are able to create, configure and manage integrated visualizations of reports, dashboards and Key Performance Indicators (KPIs) of their TabWare data that is crucial in facilitating the continuous improvement of their maintenance operations. The TabWare Analytics application is the most powerful embedded Analytics tool for CMMS / EAM solutions on the market today, and, like TabWare itself, it is intuitive and easy to use.
Also in the first quarter of 2014, The TabWare Cloud Computing solution maintained a 100% uptime rate, with the overall 2013 uptime rate of 99.97%. More and more new customers are choosing TabWare's Cloud Computing solution over the TabWare on-site deployment option because they are able to get up and running even faster and with limited need for IT involvement or additional resources. With competitive tiered pricing options, TabWare Cloud Computing is an affordable Software as a Service (SaaS) option for organizations needing just a few users to those that need many users and more functionality. AssetPoint hosts their TabWare Cloud Computing solution in an SSAE 16 Type II audited environment designed to handle all customer locations from a secure database, and customers access their data through a safe, password protected internet link. AssetPoint also offers the flexibility of an on-site deployment option for companies who want TabWare on their own servers.
AssetPoint President and CEO, Mike Levine said, "We are very pleased with the first quarter results. Our focus has been on asset-intensive industries, and organizations of all sizes are selecting TabWare for its ease of use and flexible deployment options that fit their needs. TabWare is designed for organizations that want a Best-in-Class solution and full functionality without the big expense of other solutions."
About AssetPoint:
AssetPoint, makers of TabWare, is the leading provider of EAM solutions for companies whose success depends on the performance of their assets. For over 30 years, AssetPoint has led the market in helping customers control their maintenance costs, optimize spare parts inventory, streamline procurement and improve management, command and control.
Designed by maintenance professionals for maintenance professionals, TabWare is easy to learn, easy to use and proven over time to be the most effective product in the market. That's why tens of thousands of users trust their critical assets to TabWare each and every day. To view online demos and case studies, visit http://www.AssetPoint.com.