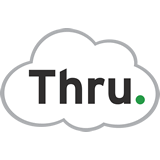 We look forward to ongoing collaboration and to delivering increased value to customers on a global scale.
(PRWEB) May 01, 2014
Dalas, TX: Leading cloud-based Managed File Transfer company Thru, Inc. today announced that it has joined the Partner Network for Rackspace® Hosting (NYSE RAX), the open cloud company. Managed File Transfer as a Service offering (MFTaaS) is now hosted on the Rackspace platform.
Thru's migration to Rackspace now provides customers with lower latency connections, while global data centers provide Thru with greater flexibility for on-demand sizing and scaling. Rackspace's team of specialists has made the migration as smooth and technology efficient as possible, while maintaining Thru's industry leading SLA.
"Migrating across six data centers with no downtime or customer issues was amazing," says Lee Harrison, CEO of Thru. "Hosting with Rackspace has proven a great choice and will help Thru expand without looking over our shoulder to see if our data center partner is right behind us."
"Our security reputation is part of our service and Rackspace gets that," declares Kevin Westenkirchner, Thru V.P. of Operations and Support Services. "The tools available at Rackspace allow us to tighten our security even further to the benefit of our customers. With 12 years of no breaches and global business growing rapidly, we needed to have the most up-to-date security and hosting infrastructure available today. Rackspace has it."
Gartner recognizes both companies in their respective Magic Quadrants; Rackspace as a leader in the Magic Quadrant for Managed Hosting, North America and Thru as a Cool Vendor and Managed File Transfer visionary. "Managed hosting is very competitive, Rackspace's approach is to lead not to follow," states Thru CTO Sergey Arutiunov. "Thru must work with only industry leaders like Rackspace to remain an industry leader itself, this is just logic."
Thru is one of the newest partners in Rackspace's new SaaS Providers Program. This program allows Rackspace to focus on the unique application hosting needs of cloud providers.
"Thru's Managed File Transfer technology is helping to set the pace of innovation in a growing market and we're excited to engage with them as part of our SaaS Providers Program," said Chris Rallo, Director of Partner Programs and Strategy at Rackspace. "We look forward to ongoing collaboration and to delivering increased value to customers on a global scale."
About Thru
Thru, Inc. a global leader in cloud-based managed file transfer, trusted to distribute and track large amounts of information quickly and securely across the globe. Serving many industries including software, financial services, architecture, manufacturing, and professional services, Thru has more than 5,000 corporate installations in over 70 countries, handling millions of transactions annually. Thru's solutions enable enterprises to distribute software globally, replace FTP, and manage risk and compliance by exchanging files quickly, securely, and reliably. This Improves productivity, ensures compliance, and reduces costs. Thru was named a "Cool Vendor" by Gartner, Inc. in the Cool Vendors in Platforms as a Service 2011 report.