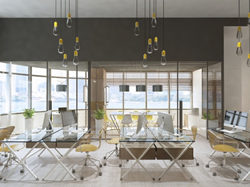 Creating a dream workspace can change the dynamics, productivity and happiness at work. Arcbazar offers that dream design.
Cambridge, MA (PRWEB) April 30, 2014
Arcbazar announces a crowdsourcing platform for clients to generate design concepts for corporate office spaces.
Workspaces are like second homes, places where Americans spend a considerable amount of time. These places should be functional, open, well-lighted, beautiful, and friendly and stress-free environments. However, many corporate offices are bland non-descriptive spaces. Creating a comfortable, visual stimulating and interactive workspace can dramatically change the dynamics of a company, boost work productivity and create happiness at work.
Arcbazar, a Cambridge- based start-up company helps elevate the concept of corporate office by providing access to creative online design. Arcbazar runs international architectural and interior design competitions. Each project is launched online and designers worldwide compete and submit solutions for the new space. Clients can then choose the solution they like most based on their initial evaluation criteria. "We want to bring high-end design to everyday small-scale home remodeling projects. We want our clients to be able to create their dream spaces in an easy, affordable and fun way," says Imdat As, founder of Arcbazar.com. Hundreds of clients around the globe have already used Arcbazar for successful home remodeling, landscape and interior design projects. "We have helped clients build great kitchens, bathrooms, living space, basements, or outside patios, balconies and landscapes. But also to re-design their workspaces."
Mario R., from Boston, MA, had a startup company moving to a space that needed remodeling and design. He was "seeing a designer to create, furnish and accessorize a 1059 sqf office space for our new business...goal is to make the space functional, comfortable and fun in a budget conscious manner. "Mario's project received 13 concept submissions, and he ultimately choose a proposal from an architect also located in Massachusetts. Bathco Ltd. was looking to re-design a new office space in Zurich, Switzerland "in which an inspiring and productive work will take place." The company received 10 beautiful and functional submissions and elected a design from Jooca Studio, Romania. Fuji F., from Singapore had a similar project and wanted to design a modern "apple-store" feeling office space. The project received 11 gorgeous proposals, and Fuji opted for a concept from Cristian Traistaru, a designer from Romania.
To view Mario, Bathco and Fuji's dream offices and learn more visit Arcbazar, and you can launch your own project and get an instant estimation about your design award at howmuchtoremodel.com.
Arcbazar.com, Inc. is the first-of-its-kind online crowdsourcing platform for architectural design projects. The company connects clients with designers worldwide, and allows clients to run competitions for their remodeling, home, commercial and interior design projects.