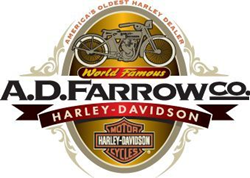 Columbus, OH (PRWEB) April 30, 2014
The thunderous booming coming from the 2014 Susan G Komen Race for the Cure Columbus course will be the 9th Annual Thunder Tunnel.
At 6:30 in the morning on May 17th, 2014 hundreds of motorcycles will gather in the parking lot of A.D. Farrow Co. Harley-Davidson Downtown to be police escorted to America's Oldest Harley Dealer's Sponsorship location on the Susan G Komen Race for the Cure course. Located at High and Chestnut, the infamous Thunder Tunnel will be formed. These hundreds of motorcycles will line the street and cheer on race participants with revving engines, blowing horns, and high fives. As breast cancer survivors and supporters run the three-mile trek in downtown Columbus they will begin the race motivated by the revving engines of motorcycles. A significant portion of the contributions will be made through the purchase of the yearly Thunder Tunnel T-Shirt.
The new sponsorship shirt is currently being pre-sold on the A.D. Farrow Co. website in order to raise funds to give back to the charity, they are then available for pick up on May 2, 2014 and a limited supply will be available for in-store purchase. The shirts have become a huge part of the tradition for many riders from year to year. America's Oldest Harley Dealer will also be sponsoring several associates who wish to participate in the race. Throughout the years the number or motorcycle participants has grown exponentially as have the number of associates participating in the race.
It has also become tradition for the company to team up with Nationwide to provide coffee and donuts for Thunder Tunnel Participants. The Company's sponsorship location being essentially Nationwide's front door made the relationship between the two mutually beneficial.
A.D. Farrow Co. has donated about $25,000 to The Susan G Komen Columbus Affiliate.