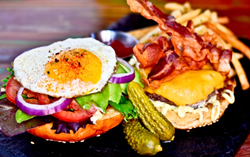 "I've been always wondering this, what does authentic mean?" Chef Bao Bao asks." I spent a lot of time to craft my art without compromising. Food is not about classification; it's about taste. " -Chef Bao Bao
Brooklyn, NY (PRWEB) May 06, 2014
Baoburg, a modernist French cuisine in the heart of Williamsburg, Brooklyn, starts serving Brunch weekdays on May 1st, 2014. The brunch menu is available 7 days a week from Noon until 4pm (Note: All dinner menu items are also available during Brunch hours). The restaurant accommodates up to 18 people.
Executive Chef Suchanan Aksornnan, nicknamed Chef Bao Bao, has designed a menu that features not only the finest and freshest seasonal ingredients but also demonstrates her understanding of multi-cultural cooking traditions with added playful twists.
In addition to Baoburg's weekend-brunch staples such as "Signature Bao" (eggs in a skillet with sausage bacon, Habanero pepper, cheddar cheese and pommes frites served with toasts $12) and "Sober Bao Benedict" (Poached egg, pulled pork and sautéed spinach with pine nuts all served atop a fried Asian bun with spicy hollandaise sauce served with a side of home fries $12), Chef Bao Bao added several new items to the brunch list. One of highlights is "Baoburg Burger" (Pan fried Chorizo Burger with avocado, tomatoes, bacon, cheese, sunny-side up egg and chipotle mayonnaise on a brioche bun served with a side of fries and pickles $16).
"This handmade patty uses both finest minced veil and beef, then add a variety of spices that used in chorizo. So once you bite you would notice the difference. it's super-juicy and much sweeter than regular meat patty, but you can feel the kicks from spices," Chef Bao Bao added.
Brunch guests will also have the opportunity to experience new desserts including "Caramel Flan" (Vanilla caramel custard served with Dulce de leche, shaved almonds, whipped cream and tortilla cinnamon stick $7) and Chef Bao Bao's signature "Grilled Banana Tamales" (Served with sweet sticky rice and coconut milk Dulce de leche with vanilla ice-cream $7)
"This dessert (Grilled Banana Tamales) is a unique yet personal one. This reflects the fact that I was born and raised in Thailand and from the inspirations I usually get when I travel and eat. I use sticky rice instead of corn-based dough. This idea came to me almost naturally," explained Chef Bao Bao.
For a better dining experience, Baoburg recently removed all counters and stools and installed tables and chairs. Baoburg also started accepting reservations via 'OpenTable', an online reservation program, and now offers private party options (up to18 people) for weekday events.
"If you are tired of the ordinary, why don't you try something extraordinary? I will give you a surprise!" Chef Bao Bao said playfully and flashed a bright smile.
ABOUT BAOBURG:
Baoburg serves up a modern twist on French cuisine by adding multicultural influences from Spanish & Asian - most notably Thai - culinary traditions. The menus at Baoburg will be fun, distinctive and dynamic, and most importantly - incredibly tasty."
Address:
126 North 6th St, Brooklyn, New York 11211
Tel: 718.782.1445
http://www.baoburgnyc.com
Business Hours (as of March 5th, 2014)
Monday-Thursday: 12:00PM - 11:00 PM
Fridays & Saturdays: 12:00PM - 12:00 AM
Sundays: 12:00PM - 11:00 PM
No Credit Cards accepted
ABOUT CHEF BAO BAO:
"When I first arrived to New York, I brought with me my traditional Thai family recipes" Chef Bao Bao states.
Chef Suchanan Aksornnan, nicknamed Chef Bao Bao, was born in the northernmost province of Thailand - Chiang Rai. After graduating from The French Culinary Institute in NY, Chef Bao Bao began training at L'ecole in NYC. Soon after, she landed her first job at the Mercer Kitchen working with renowned Michelin star chef, Jean Georges. In addition, she also got an amazing opportunity to work with Daniel Boulud at Bar Boulud.
Following this, Chef Bao Bao became the lead line cook at Soho House Hotel; she worked as a personal chef assistant for Marc Ecko in NYC and as starch cook at Social Private with Top chef Tiffany Derry. She also cooked as a personal chef for the Princess of Saudi Arabia and many celebrities including, to name a few: Cameron Diaz, Janet Jackson, Lucy Lu, Marc Jacobs.
"Some might say my food is not authentic because it's fusion. I've been always wondering this, what does authentic mean?" she asks, " I spent a lot of time to craft my art without compromising. Food is not about classification; it's about taste (laughter). Come to Baoburg and I will prove it!"
Any inquiry, contact Hiroshi Kishiro 646 456 7098 or email to info(at)baoburgnyc(dot)com.