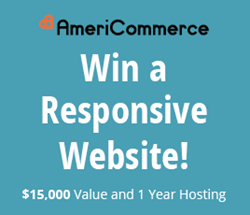 Win a site that works on tablets and mobile devices!
Beaumont, TX (PRWEB) May 02, 2014
AmeriCommerce announces a $15,000 sweepstakes offer that awards 1 lucky winner a custom designed, responsive website and hosting for any business already online or wanting to get online with an ecommerce store.
This sweepstakes offer is only available from May 1st through May 31st and anyone can enter the sweepstakes with a valid email address. Enter the sweepstakes here.
The winner will receive their very own custom designed responsive website along with in-depth, hands-on consultation from AmeriCommerce experts, designers and developers during the fulfillment of the $15,000 package. The responsive design will automatically adapt to tablet and mobile users. Additionally, it will be fully functional, engaging and fast-loading with an emphasis on conversion tactics, strong calls to action and optimized tablet and mobile experiences. This ecommerce store will run on the award winning AmeriCommerce platform, which is PCI Certified and includes pro-grade ecommerce tools for everything you need to sell stuff online like a pro.
The total package value of this sweepstakes offer is more than $16,000, including the custom design and hosting for a year. The hosting includes 15 GB of traffic, 1GB of storage, a Shared SSL, and your entire inventory up to 5,000 products.
This sweepstakes offers tremendous value, not only because of cash value, but because of the potential new business it can generate for the winner due to the responsive design. According to a recent comScore report, 55% of all time spent with online retailers occurred on a mobile device during June 2013. The number of mobile users continues to rise due to growth in tablet users and similar devices.
"We are thrilled to offer everyone a chance to take part in this sweepstakes because it provides a huge incentive and advantage for anyone that has ever considered starting their own eCommerce business. We hope to truly impact one entrepreneur's life and really want to give someone a chance to get out there and start selling right now! We've got more than 5,000 internet retailers running successful online stores already and we'll be happy to add them to the growing list," said Ed Sturrock, CEO of AmeriCommerce.
This sweepstakes is ideal for anyone who has ever wanted to expand from their bricks-and-mortar store to selling online or for all current online store operators who want to have their store redesigned and managed on the award winning, blazing-fast, Americommerce ecommerce platform.
Participants are allowed one initial entry and are awarded additional entries when they follow the instructions on the sweepstakes page where they are offered options to share on social platforms, or "like" AmeriCommerce on Facebook, or sign up for a free trial of AmeriCommerce eCommerce software. Only one entrant will win. The winner will be announced in June 2014.
Enter the sweepstakes here:
https://www.americommerce.com/15000-free-ecommerce-site-sweepstakes
About AmeriCommerce
AmeriCommerce is a PCI certified ecommerce software platform that is currently serving over 5,000 merchants. Founded in 2005, AmeriCommerce serves businesses both big and small. Whether you need one online store or multiple ones, AmeriCommerce has the tools to get anyone selling stuff online, Facebook, Twitter, mobile, blogs and across the web in no time. With more than $4 billion processed and growing every day, AmeriCommerce is a stable and consistently reliable solution for competitive internet retailers and merchants who need a variety of smart tools for a complex industry. By staying passionate about ecommerce and fostering a trusting and deep partnership with our customers, AmeriCommerce is the ecommerce software with heart. Do you love your store? Learn more about AmeriCommerce at http://www.americommerce.com.