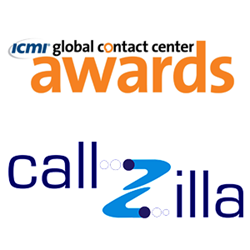 I am so proud of Juan Carlos for his hard work and dedication. He is truly a leader for us at Callzilla.
Miami, Florida (PRWEB) April 30, 2014
Following a rigorous application process, the International Customer Management Institute (ICMI) selected Callzilla Agent, Juan Carlos Triviño, as a finalist for Best Contact Center Agent. Callzilla is the leader in Hispanic Customer Engagement. Juan Carlos has demonstrated competence, empathy and motivation to the highest degree to receive this nomination. ICMI will announce the winners of this and several other awards at the Annual Global Contact Center Awards Dinner on May 7th, 2014 in San Diego. The evening's award festivities are sponsored by Voiance, iQor and HireIQ.
Other award categories include best contact center manager, best use of technology, best outsourcing partnership, outstanding contact center organizations and many more. Finalists in all categories can be found at http://www.icmi.com/awards and all winners will be announced on May 7th.
"I am so proud of Juan Carlos for his hard work and dedication," said Neal Topf, President of Callzilla. "He is truly a leader for us at Callzilla. Not only is he passionate about his work, he is friendly and personable and clients really enjoy working with him. I could not be more excited for Juan Carlos and Callzilla."
For more information about Callzilla, visit http://www.callzilla.net/.
For more information on the ICMI Global Contact Center Awards, visit icmi.com/awards, call 800.672.6177 (International: 001.719.268.0328) or email awards(at)icmi(dot)com.
About Callzilla
Callzilla is 100% focused on serving the U.S. Hispanic Consumer Market, providing quality-focused bilingual and Spanish-language outsourced customer care, customer service, and customer acquisition services. Current clients span the health and beauty, health care, telecommunications, financial services, non-profit, and direct response and direct-to-consumer industries. Callzilla proudly offers state of the art technology to handle Inbound and Outbound phone calls, SMS, Chat, Email, IVR, and Social Media Monitoring and Messaging.
Founded in Miami, Florida in 2005. Today is headquartered, managed, and operated in Miramar, Florida (Metro Miami) and Callzilla's contact center facilities are located in Bogota, Colombia and are 100% owned and operated by Callzilla.
About ICMI
The International Customer Management Institute (ICMI) is the leading global provider of comprehensive resources for customer management professionals -- from frontline agents to executives -- who wish to improve customer experiences and increase efficiencies at every level of the contact center. Since 1985, ICMI has helped more than 50,000 organizations in 167 countries through training, events, certification, consulting, and informational resources. ICMI's experienced and dedicated team of industry insiders, trainers, and consultants are committed to helping you raise the strategic value of your contact center, optimize your operations and improve your customer service. For more information, visit http://www.icmi.com.
ICMI is a part of UBM (http://www.ubm.com), a global live media and B2B communications, marketing service and data provider.