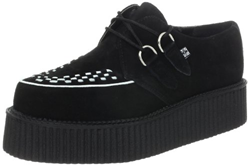 (PRWEB) May 01, 2014
Johnny Depp showed off his famous style to fans in Beijing and played guitar for a group of about 1,000 invited guests in a pair of T.U.K. black suede with white interlace mondo creepers during his promotional tour for 'Transcendence'. Depp was joined on stage by Taiwanese R&B/hard rock artist David Tao, a big local star.
The actor was seen a few days later again sporting his T.U.K. footwear during his appearance for Jimmy Kimmel Live on April 7th. See the video here: http://youtu.be/5a4ZcbNvU50
About T.U.K. Footwear:
Since their start in 1991, the San Diego, CA based footwear company T.U.K. has been creating bold, original footwear for men and women. Footwear made for and inspired by bands, music fanatics, fashionistas, and individuals with eclectic tastes. With their huge range from traditional classics to modern upstarts they are constantly providing creative style with an original edge.
For more information, please visit http://www.tukshoes.com.