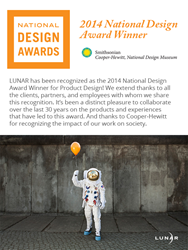 San Francisco, CA (PRWEB) May 01, 2014
LUNAR, one of the world's leading product design and engineering firms, announced today it has won the prestigious National Design Award for Product Design from the Smithsonian's Cooper-Hewitt, National Design Museum.
Founded 30 years ago this year, LUNAR is widely recognized for creating product designs that make a difference for clients and their customers, stakeholders and brands. LUNAR is best known for its innovative, market-defining work for market leaders Apple, Oral-B, HP, Intel, Abbott, and Illumina.
The National Design Awards jury selected LUNAR for its high level of excellence, innovation and public impact of their body of work.
"It's a deep honor for LUNAR to accept the National Design Award on behalf of my fellow co-founder, Gerard Furbershaw, every member of our talented team, and the market-leading clients who have contributed to our success for 30 years," said Jeff Smith, LUNAR CEO. "It's been a rare privilege for us to influence profound developments in technology, health care and consumer products for three decades."
"While the National Design Awards celebrate contemporary excellence, we are especially excited about the foundation for the future that our team and our clients are building today," said John Edson, President. "This award, and community of past honorees we join today, inspires and challenges us to develop new ways of building lasting value for our clients, and for the customers they serve."
About the Awards
The National Design Awards were conceived by the Smithsonian's Cooper-Hewitt, National Design Museum to honor the best in American design. First launched at the White House in 2000 as an official project of the White House Millennium Council, the annual Awards program celebrates design in various disciplines as a vital humanistic tool in shaping the world, and seeks to increase national awareness of design by educating the public and promoting excellence, innovation, and lasting achievement.
The National Design Awards is one of the few programs of its kind structured to continue to benefit the nation long after the Awards ceremony and gala. A suite of educational programs will be announced this summer in conjunction with the Awards by Cooper-Hewitt, National Design Museum's award-winning Education Department, including a series of public programs, lectures, roundtables, and workshops based on the vision and work of the National Design Award winners. The award will be given during National Design Week in October.
About LUNAR
LUNAR is a global design and engineering firm that has been creating beautiful, ingenious, and charismatic products and experiences for 30 years.
Founded and built by Californians Jeff Smith and Gerard Furbershaw, LUNAR's work spans consumer, technology, and life science markets for leaders like Oral-B, Apple, and Johnson & Johnson, among other global brands.
The team brings together consumer insight, design leadership and engineering horsepower to deliver successes like the Oral-B CrossAction toothbrush, market-leading HP computers, and brand-defining genetic sequencers for Illumina. Staying close to its entrepreneurial core, LUNAR has participated in creating a variety of new ventures, including Belle-V, an innovative new brand of kitchen tools introduced on Kickstarter, which achieved its funding goal on the first day.