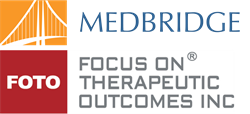 Seattle, WA (PRWEB) May 01, 2014
MedBridge, the leader in evidence-based online education for rehabilitation professionals, announces its partnership with FOTO, the leading provider of nationally benchmarked scorecards with monthly risk-adjusted reports that rank healthcare providers based on their clinical outcomes per patient, therapist, clinical site, and company.
Through the partnership, FOTO members will be recommended condition-specific courses and point-of-care learning resources on the MedBridge platform, based on the scorecard results. The FOTO reports highlight clinical excellence as well as areas needing improvement, and compare treatment effectiveness, efficiency, and patient satisfaction by condition. MedBridge's "prescriptive" education approach aims to enhance individual clinical performance, improve consistency of care among therapists, and positively impact patient rehabilitation results. MedBridge is the first continuing education provider to join FOTO's Continuing Education Partners.
"Our partnership with MedBridge will help the clinic outcome reports come alive in a meaningful way to guide clinician development," said Al Amato, PT, MBA, President of FOTO, Inc. "We've found that no positive change takes place until you measure performance. This partnership makes it easy to take actionable steps to address underperforming areas by providing one resource to improve outcomes through education."
"We're proud that the partnership with FOTO will empower our clients to take measurable action to improve patient outcomes using targeted curriculum," said Justin Kowalchuk, Founder and CEO of MedBridge. "Our ultimate goal as a company is to create evidence-based education to not only help healthcare providers continually develop their clinical expertise, but also to directly affect outcomes and enhance the overall patient experience."
About FOTO
FOTO is a Knoxville, TN, based corporation that has been continuously improving solutions that efficiently and reliably measure and report functional outcomes for the Rehab industry for 20 years. FOTO's web-based solutions are risk-adjusted to enable fair and accurate measurement and predictions of the expected improvement in a patient's functional status. Approximately 5 million patient surveys have been compiled in the FOTO database, and researchers have utilized FOTO data to publish over 85 articles on functional outcomes in refereed medical journals. These publications have led the way in enhancing the science of measuring outcomes and the use of outcomes in payment methodologies. FOTO is considered the standard in measuring functional outcomes in Rehabilitation. For detailed information about FOTO's products and services, visit http://www.fotoinc.com.
About MedBridge
MedBridge is the leader in evidence-based online education, providing rehabilitation professionals with actionable curriculum to get their patients back to doing what they love. MedBridge's educational ecosystem combines a sophisticated blended learning platform with accredited content taught by renowned instructors. Learn more about our dedication to improving patient outcomes through lifelong learning, as well as our upcoming Home Exercise Program at http://www.medbridgeeducation.com.