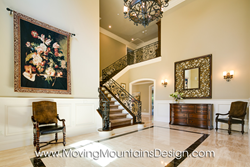 We fill empty shipping containers heading back to China with luxury home furnishings and accessories. We're doing our part to reverse the trade imbalance between the US and China
Pasadena, CA (PRWEB) May 01, 2014
Los Angeles staging and design company, Moving Mountains Design, is now offering interior design and purchasing of made-in-the-USA furniture to clients living in China. Recent demand from wealthy Chinese nationals, whom have purchased homes in Los Angeles, Arcadia, San Marino and other San Gabriel Valley cities, has put Moving Mountains Design at the forefront of this emerging interior design market.
"When I stage new-construction, multi-million dollar luxury homes for builders in the San Gabriel Valley, my work and design aesthetic is on display to wealthy Chinese home buyers. They often have multiple homes in the US and China. American and European-made furniture is considered a great luxury in China, so a new business model was born" says Michelle Minch, owner of Moving Mountains Design. "We fill empty shipping containers heading back to China with luxury home furnishings and accessories. We're doing our part to reverse the trade imbalance between the US and China," Minch laughs.
How it works: A potential client contacts Moving Mountains Design, with floor plans in hand. A designer takes them shopping at To-The-Trade-Only wholesale designer showrooms, where they can purchase designer furniture off the floor or by custom order. Lighting, accessories, rugs and artwork are also purchased. Once all items become available, they are picked up by a receiving company and transferred to a shipping company in the Ports of Long Beach or Los Angeles. "Once the purchases are handed off to the shipping company, our work is done. The client takes our layouts and is responsible for receiving the furniture in China and installing the furniture according to plan, although I'd be happy to oversee the installation in China. One of the shippers we work with will arrange for delivery and installation, if requested by the client", says Minch.
Moving Mountains Designs employs a Mandarin-English translator to assist clients who are more comfortable speaking Mandarin. As business grows, plans are int the works to hire Mandarin and Cantonese speaking interior designers.
For more information about Michelle Minch and Moving Mountains Design read http://smallbiztrends.com/2014/04/moving-mountains-staging-homes-sale-spotlight.html