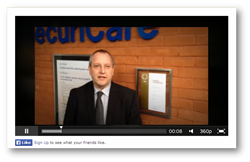 Working towards Gold Accreditation resulted in real benefits for customers.
Loudwater, Bucks (PRWEB UK) 8 May 2014
Healthcare service provider, SecuriCare (Medical) Ltd, began 2014 on a high, celebrating its new status as a Gold 'Investors in People' award-winner. At the same time, sister company CliniMed Ltd, which markets innovative medical products, also received the prestigious Gold Accreditation.
Click here to see Managing Director, Neil Freeman, announcing the awards on YouTube.
With the company focused on achieving the highest standards of service and care, working towards Gold Accreditation resulted in real benefits for customers. This included subtle changes to customer service activities so that staff can now spend longer talking to customers to ensure their needs are fully met.
The Buckinghamshire-based company, which home delivers stoma, continence and other prescription products throughout the UK, achieved Silver Accreditation in 2011. Having policies and procedures already in place and a strong commitment to 'best practice' management of people, systems and processes has helped the company achieve significant growth as well as the Gold accreditation.
Neil Freeman, the Managing Director of both companies is more than pleased with the achievement. "We will always be a family-feel company that respects and values all individuals and the companies that we work alongside. For us, the key to getting things right centres around engaged and motivated employees who are offered development opportunities to increase their skills. This has resulted in our absence and turnover levels being below the national average. All members of staff are passionate and committed to customer service and this means that customers can expect to receive a very personal and excellent service from people who have experience and expertise that is second to none."
More than 15,000 UK businesses have engaged with the IiP framework and Gold accredited companies form a select group of around 1,000 businesses. This latest award places the company, and its sister company CliniMed Ltd, in the top 7% of British businesses to have achieved this accolade. In order to achieve Gold Accreditation, both companies met 171 out of 196 assessment points, 6 more than was needed. This achievement is reflected by the company's most recent Annual Patient Survey where satisfaction with the service was found to be 99.4% (1,040 respondents, Annual Patient Survey 2013).