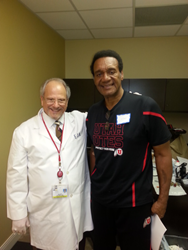 Washington, DC (PRWEB) May 05, 2014
The National Football Leagues Player's Association (NFLPA), Heart, Obesity, Pulmonary & Education (HOPE), The Living Heart Foundation and Dr. Elliott Alpher of the Alpher Center, specialist in sleep disorders and jaw pain, screened NFL players and former Redskin players for sleep apnea at the George Washington University Hospital on April 26, 2014.
Due to their size and neck girth, 89% of NFL players suffer from some sort of sleep disorder. To bring attention to this critically high statistic, these organizations are teaming together to test former players for sleep apnea. Sleep apnea is a type of sleep disorder characterized by pauses in breathing during sleep—often due to weight issues—and can lead to serious health concerns.
"We selected Dr. Alpher to conduct the NFL HOPE Project. The NFLPA, The Living Heart Foundation, Gergen's Orthodontic Labs and Pro Players Heart Alliance (PPHA) conduct a very thorough screening to make sure that the players are given the finest care," said David Gergen, president PPHA, president, Dental Division, American Sleep & Breathing Academy.
"The Alpher Center has all the diagnostic instruments to screen players quickly and easily," comments Alpher. "It's what we do every day. Plus, we're one of the first groups in the metropolitan area to utilize an intra-oral digital impression system that has just come on the market. This next generation solution will increase the accuracy and speed with which we fabricate oral appliances for our patients and therefore put them on the fast track to relief and recovery from snoring and sleep disorders."
Dr. Elliott Alpher, one of the District's most experienced specialists for sleep and jaw disorders, on staff at George Washington University Hospital and Georgetown University Hospital, has been known as a leader in the treatment of sleep disorders and jaw pain for 25 years. Dr. Alpher has pioneered a conservative, non-invasive approach utilizing computerized and verifiable diagnostic methods to treat TMJ, snoring and sleep apnea. This method of treatment has proven to be greatly successful and is highly regarded as the first method of choice by physicians and patients.
Alpher was also recently responsible for heading a delegation to the Federal Motor Carrier Safety Administration (FMCSA) and Medical Advisory Board (MAB) to introduce the new technology of compliance chips in oral appliances to treat and monitor sleep apnea and snoring of truckers and other transportation personnel. In addition, he earned the status of Diplomate of the American Board of Craniofacial Pain & Dental Sleep Medicine in October 2013 and Board member and Diplomate to the Board of the American Sleep and Breathing Academy in March of 2014.
The Living Heart Foundation, with support from the National Football League Players Association and Covidien (COV), launched HOPE, a program for former NFL players in October of 2012. The HOPE Program is a comprehensive obesity research initiative designed to promote healthy lifestyles and weight-management among former professional football players. These former players, when compared to smaller-sized men, are more likely to have cardiovascular problems and other health issues associated with being overweight.