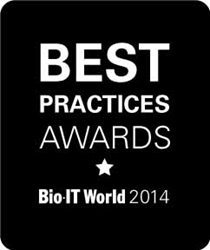 Oxford, UK & Boston, US (PRWEB UK) 1 May 2014
Yesterday, the Bio IT World Best Practice Award 2014 judges selected Tessella and AstraZeneca as award winners in the category for Clinical & Health IT for AstraZeneca's Real Time Analytics for Clinical Trials (REACT), receiving a honorable mention from the judges at the award ceremony.
The award was given for AstraZeneca's REACT system, implemented with input from Tessella. The system tracks vital statistics, laboratory tests and adverse events on both population and subject-specific levels during the course of a clinical trial. By collecting this information together in a platform with flexible visualization and query features, as well as a complete profile for each patient, REACT allows AstraZeneca to respond rapidly to safety concerns and swiftly identify risk factors for adverse events, protecting trial participants while rescuing trials from costly late-stage failure.
To find out more about the work register for the upcoming Tessella webinar that explores some of the work behind the system: http://tessella.com/events/webinar-building-predictive-science-platform-rd-data-science-challenge/.
-Ends-
Notes to the Media
About Tessella
Tessella is an international analytics, software services and consulting company known for finding and delivering innovative answers to the complex business and technical challenges of some of the world's most forward-thinking organisations. We are innovative problem solvers, passionate about science and technology, committed to excellence, and to our clients' success.
Our work includes some of the most exciting and ambitious projects of our time. These projects make the world a better place: increasing productivity in the development of new medicines; designing satellites to observe and understand our universe; harnessing fusion power to provide unlimited, clean energy; minimising risk for workers in harsh and dangerous conditions; and protecting the digital heritage of nations.
Visit http://www.tessella.com
Media Contact
Tessella
Christina Tealdi | Senior PR and Marketing Communications Manager | Phone: +44 (0) 1235 546638 | Mobile: +44 (0) 779 9346453 | pressoffice(at)tessella(dot)com