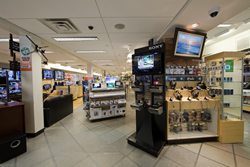 Whether you're interested in learning about DSLR cameras or video lighting, what "4K" means for your new television or the best features of the latest Apple computer, Adorama has an expert to answer your questions.
(PRWEB) May 01, 2014
Adorama (http://www.adorama.com), one of the world's largest photography, video, imaging and electronics retailers, has a number of in-store photography and video workshops lined up for the month of May. Open to the public, the free workshops are held at the Adorama super store located at 42 West 18th Street in Manhattan and are planned throughout the entire year. Headlining the May workshops are Emmy Award winner Michael Artsis, MSNBC columnist Michael Rogers, and photographer and psychology professor Ralph Ferraro.
For updates, the latest information on upcoming events and to sign up, please visit Adorama's event calendar at http://www.eventbrite.com/o/adorama-2821855680.
Adorama's May 2014 In-store Events Calendar:
Tuesday, May 6, 2014 – Emmy Award Winner Michael Artsis Explores Capturing Interviews on iOS: Interviewing people on camera is a talent. In this iOS seminar, Emmy Award winner Michael Artsis will walk attendees through how to set up, light, shoot and record audio for an interview using portable gear ideal for use with an iOS mobile device. Michael will reveal his techniques for how to prepare and conduct interviews to make the conversation natural, engaging and informative. Michael Artsis is a five-time Emmy Award-winning anchor, reporter and video journalist. He freelances for Fast Company, Newsday and several other organizations.
Tuesday, May 13, 2014 – MSNBC Columnist Michael Rogers Discusses the Practical Future of Technology: In this seminar, Michael Rogers discusses the rapidly changing technological landscape and what it means for businesses, large and small. With his common-sense vision of change, Michael blends technology, economics, demographics, culture and human nature into a future vision that is rapidly approaching. Michael's recent work has ranged from serving as Futurist-In-Residence for The New York Times to writing the popular "Practical Futurist" column for MSNBC. Michael speaks and consults for clients worldwide, from startups to Fortune 500 companies, and is a frequent guest on radio and television.
Wednesday, May 14, 2014 – Infuse Your Photography With Emotional Energy With Tips From Ralph Ferraro: Ralph Ferraro, a New York City-based professor of psychology and related fields, has been honing his artistic sense for over thirty years. In this seminar, Ralph discusses the concept of "emotional energy photography," or photography aimed to pull emotion both out of the subject and the audience. Using various lighting and shooting techniques, Ralph will demonstrate how to give photography an emotional charge to make images more compelling.
Monday, May 26, 2014 – Creative Color: Get Stellar Results Using Mixed Lighting Sources with Pro Photographer Jason Monet: Learn how to creatively use lighting with different color temperatures to get great results. Using mixed lighting solutions, from different types of lighting to varying color temperatures, Jason will show to create stunning photographs by combining and composing with the lights at one's disposal. Jason will also demonstrate his techniques using a live model and backdrop.
Workshops are held in the main Adorama store located at 42 West 18th Street, between Fifth and Sixth Avenues in Manhattan. Whether interested in learning about DSLR cameras or video lighting, what "4K" means for new television or the best features of the latest Apple computer, Adorama has an expert to answer all the questions. Instructors for Adorama classes throughout the year include acclaimed photographers such as Rick Sammon and Joe McNally, five-time Emmy-winning video journalist Michael Artsis, and professionals in technology from Sony, Nikon, Canon, Hasselblad, Pocket Wizard and more.
Express Pickup in Store: Order Online, Don't Wait On Line
Thinking about making a purchase from Adorama? Planning on attending one of the in-store events? Why not do both? With Adorama's Express Pickup service, customers can order products online, then pick up in store – no waiting for shipments or in long lines! Browse through thousands of products from the comfort of your home, read reviews, compare products and visit the Adorama Learning Center to learn more about photography and videography equipment and to find out what gear is right for your needs. For more information on how Adorama's Express Pickup works, please visit: http://www.adorama.com/help/storePickup.
Follow Adorama on Facebook (https://www.facebook.com/Adorama) and Twitter (https://twitter.com/adorama) as well as the Adorama Learning Center to learn more about in-store events and workshops. Additional workshops and events will be added as they're confirmed.
ADORAMA: More Than a Camera Store
Adorama is more than a camera store – it's one of the world's largest photography, video, imaging and electronics retailers. Serving customers for more than 35 years, Adorama has grown from its flagship NYC store to include the leading online destination for photography, video and consumer electronics. Adorama's vast product offerings encompass home entertainment, mobile computing, and professional video and audio, while its services include an in-house photo lab, AdoramaPix, pro equipment rental at Adorama Rental Company, and the award-winning Adorama Learning Center, which offers free education for photographers in online channels such as the popular Adorama TV.
Adorama is listed as one of the top five electronics retailers by Consumer Reports, "Best of the Web" by Forbes.com, Internet Retailers Top 100, and is the official Electronics Retailer of the NY Giants.