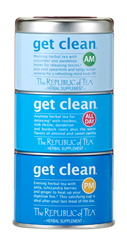 Novato, CA (PRWEB) May 05, 2014
Feeling out of sorts? The Republic of Tea is thrilled to announce the release of its new GET CLEAN® STACKABLE TEA TRIO TIN featuring three premium-cleansing teas for two-weeks worth of sipping. The innovative tea trio includes two new flavors and the already popular get clean from its collection of BE WELL RED® teas. Each gentle herb tea can be used alone or in conjunction with a cleansing program to help get the body back into balance.*
Each Gluten Free, Kosher Certified tea tin suggests specific times for sipping and getting clean throughout the day, all of which are delicious when served hot or over a tall glass of ice:

AM TEA – Wake Up and Get Clean: Morning herbal tea with cucumber and dandelion leaves, both reputed to activate the kidneys to release toxins,* plus cool spearmint and tangy lemon verbena for a refreshing mind body lift.
ALL DAY TEA – Get Clean Anytime: Anytime herbal blend tea for detoxing* with rooibos, milk thistle, dandelion and burdock roots, plus the warm flavors of almonds and sweet vanilla. This gentle blend helps stimulate the liver* to sweep toxins away.*
PM TEA – Get Clean to End the Day: Evening herbal tea with alma berries and schizandra berries bring all five flavors – sweet, salty, sour, bitter and pungent – to your evening cup. These adaptogens can help the body cope with stress while building energy reserves.* Ginger root supports good digestion* while monk fruit lends a sweet finish.
*These statements have not been evaluated by the Food and Drug administration. This product is not intended to diagnose, treat, cure or prevent any disease.
Each individual airtight compartment contains 14 natural, unbleached, round tea bags free of tags, strings and staples. All three tins, each with a lid of its own, snap together for ease of storage or pull apart for ease of portability and are perfect as a gift or trial size. The stackable tea trio tin is now available for purchase nationwide in select specialty retailers, through the company website (http://www.republicoftea.com), via mail order catalog and by calling 800.298.4TEA(4832).
About The Republic of Tea:
The Republic of Tea enriches people's lives through its premium teas, education and innovation, as it emphasizes a "Sip by Sip Rather Than Gulp by Gulp" lifestyle. Founded in 1992, The Republic of Tea sparked a specialty tea revolution. Today the brand offers an unequaled selection of the highest-quality teas, herbal blends, books and nature-inspired sip ware, available exclusively at specialty retailers throughout the U.S. Further, The Republic of Tea is mindful of how its actions impact the greater community and actively supports worthy organizations like the Whole Planet Foundation, the Prostate Cancer Foundation, Room to Read, Action Against Hunger, The Ethical Tea Partnership, Rainforest Alliance certification and Non-GMO Project verification. For more information, please visit http://www.REPUBLICofTEA.com or call 1.800.298.4832. Follow The Republic of Tea on Twitter at twitter.com/republicoftea and Like us on Facebook at http://www.facebook.com/RepublicofTea.