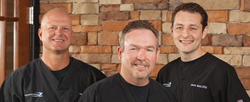 Fort Worth, TX (PRWEB) May 01, 2014
Patients who visit Fort Worth Dental for procedures ranging from gum disease treatment to the placement of dental implants in Fort Worth, TX can now enjoy the benefits of advanced dental imaging technology. The use of high definition, three-dimensional scans allows the team at Fort Worth Dental to accurately diagnose patients and safely complete complex procedures. For patients who need to replace multiple teeth with dental implants, this technology can be especially advantageous.
Rather than traditional x-rays, the Fort Worth Dental team utilizes CT scans and the Cone Beam Imaging system. While x-rays offer a limited vantage point, Cone Beam Imaging generates a three-dimensional, virtual image that the dentists at Fort Worth Dental can view from any angle. This allows them to obtain the information needed to minimize damage or risk for patients undergoing procedures such as the placement of dental implants in Fort Worth, TX. As an added benefit, Cone Beam Imaging exposes patients to even less radiation than traditional dental x-rays do.
If a patient needs to replace multiple teeth with dental implants, advanced imaging can make a significant difference in reducing the minor risks of the implant procedure. Although the procedure has a high success rate, there is a small chance of nerves, blood vessels, other teeth, and even sinus cavities being damaged by poor implant placement. The information provided by x-rays alone is not always enough to mitigate this risk. With CT scanning and Cone Beam Imaging, the professionals at Fort Worth Dental can fully examine each patient's bone structure and nerve placement. With this information, they can determine precisely where implants should be placed to minimize damage and expedite healing.
People who would like to replace multiple teeth or even one tooth are encouraged to schedule a consultation with Fort Worth Dental and learn more about their options. Patients can also visit Fort Worth Dental's website to learn more about the various procedures that these Fort Worth, TX dental professionals offer, from placing dental implants to treating periodontal disease.
About the Practice
Fort Worth Dental is a general practice offering personalized dental care for Fort Worth, TX patients. Dr. Terry M. Zang, Dr. Arthur J. Mund, and Dr. Justin Mund are all dedicated to their dental practice, which offers the LANAP® FDA cleared laser procedure for gum disease treatment. Focused on preventative, restorative, and cosmetic dentistry, they each have unique attributes for the practice. To learn more about Fort Worth Dental and their services, visit their website at http://www.fortworthdental.com and call (817) 500-0254.