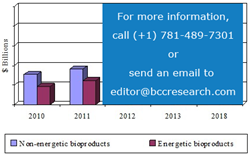 Global Market for Bioproducts to Reach $700.7 Billion in 2018
Wellesley, Mass., (PRWEB) May 02, 2014
BCC Research (http://www.bccresearch.com) reveals in its new report, BIOREFINERY PRODUCTS: GLOBAL MARKETS, the global market for bioproducts is expected to grow to $700.7 billion by 2018, with a five-year compound annual growth rate (CAGR) of 5.5%. The non-energetic market, the fastest growing segment overall, is moving at a tremendous 14.9% CAGR.
The non-energetic bioproducts category, which includes chemicals, pharmaceuticals and materials, is the largest and fastest moving segment in this market and is expected to reach $472.8 billion by 2018, up from $236.3 billion in 2013.
"These products continue to penetrate the clothing, pharmaceuticals, plastic films, carpeting, containers, composite panels, sorbents, solvents, adhesives, and insulation markets that are at a well-established stage of development," says BCC Research energy analyst Edward Gobina. "Pharmaceuticals, coatings, plastic films, containers, adhesives, insulation, wood waste products, and composite panels are expected to represent a substantial share in the non-energetic bio-based industry."
Energetic bioproducts, including production technologies such as direct combustion in stoker boilers, low-percentage co-firing, municipal solid waste incineration with combined heat and power, dry/wet milling, fermentation, and esterification, is the second fastest category in this market, and is projected to reach $227.9 billion by 2018.
BIOREFINERY PRODUCTS: GLOBAL MARKETS provides an overview of the global bioproducts market, including analyses of global market trends, with data from 2010 to 2013, and projections of CAGRs through 2018. It breaks down product demand by division, including energetic (ethanol, biodiesel, electricity/heat), non-energetic (chemicals, materials, herbal/botanicals); and by segment, including fuel (transport, mechanical, etc.), energy (heat, electricity), material (plastics, resins), chemical (alcohols, solvents, acids, surfactants, etc.), and herbal/botanical (drugs, body care, aroma, etc.). Forecasts for biomass conversion processes and equipment to produce fuels, power, and chemicals from biomass are included, as is an evaluation of the prospects for biorefineries built on different platforms, such as the "sugar platform," based on fermentation of sugars extracted from biomass feedstocks, versus the "syngas platform," based on thermochemical conversion processes.
This report is intended for anyone with an interest in the current and future market for biorefinery products, including the development of agriculture, chemicals, pharmaceuticals, energy, and fuels.
Editors and reporters who wish to speak with the analyst, should contact Steven Cumming at steven.cumming@bccresearch.com.
About BCC Research
BCC Research publishes market research reports that make organizations worldwide more profitable with intelligence that drives smart business decisions. These reports cover today's major industrial and technology sectors, including emerging markets. For more than 40 years we've helped customers identify new market opportunities with accurate and reliable data and insight, including market sizing, forecasting, industry overviews, and identification of significant trends and key competitors. We partner with analysts who are experts in specific areas of industry and technology, providing unbiased measurements and assessments of global markets. Our clients include the top companies in industries around the world as well as universities, business schools, start-ups, consulting firms and investment companies. BCC Research is a unit of Eli Research LLC. Visit our website at http://www.bccresearch.com. Contact us: (+1) 781-489-7301 (U.S. Eastern time), or email information(at)bccresearch(dot)com.
Data and analysis extracted from this press release must be accompanied by a statement identifying BCC Research LLC, 49-2 Walnut Park, Wellesley, MA 02481, Telephone: (+1) 781-489-7301; Email: editor(at)bccresearch(dot)com as the source and publisher. Thank you.