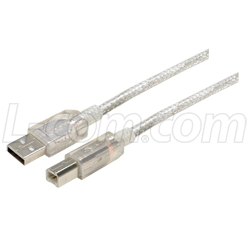 "The look of a clear jacketed USB 2.0 cables really catches a customer's eye," said Steve Smith, Product Manager.
North Andover, MA (PRWEB) May 29, 2014
L-com, Inc., a designer and manufacturer of wired and wireless connectivity products, announced today that they will now be selling USB 2.0 clear jacketed premium cables, in Type A-B and Type A-A connector configurations. These high quality cables have a similar design to L-com's popular CSMUAB and CSMUAA cables, but have a clear cable jacket and overmold that exposes the cable's braid and inner metal back-shell shielding can.
"The look of clear-jacketed USB cables really catches a customer's eye," said Steve Smith, Product Manager, "But what's also great about these cables is that they highlight the high quality shielding inside the bulk cable and under the mold."
According to Smith, most bulk cables are made with much less braid coverage. In cheaper cables, one can often see the foil shield and sometimes the wires through the braid. With the premium L-com cables, only the braid is visible due to the high braid coverage, which allows for better protection against EMI in electrically noisy environments. Furthermore, the metal can under the mold serves as a better shielding method than the use of copper tape or through soldering a piece of the braid to the connector.
Additionally, the clear-jacketed USB 2.0 cables feature 20 AWG power leads to allow maximum power transfer. Both versions of this cable family are available in 0.3, 0.5, 1, 2, 3 and 5 meter lengths.
For more information about this release, please contact:
Peter McNeil, Product Marketing Manager
978-682-6936 x1450, pmcneil(at)l-com(dot)com
About L-com Global Connectivity
L-com Global Connectivity, a global leader in the manufacture of wired and wireless connectivity products, offers a wide range of solutions and unrivaled customer service for the electronics and data communications industries. The company's product portfolio includes cable assemblies, connectors, adapters, computer networking components, and custom products, as well as their HyperLink® brand of wireless products which include antennas, RF amplifiers, coaxial lightning and surge protectors, and NEMA rated enclosures. L-com's HyperLink® wireless products are designed for WiFi, WiMAX, SCADA, 802.11a/b/g/n/ac, RFID and Bluetooth applications. In addition to HyperLink® , L-com's other brands include MilesTek®, specialists in Military/Aeronautics connectivity solutions and Aiconics®, a leading manufacturer of electrical connector products. Trusted for over 30 years, L-com, which is headquartered in North Andover, MA, is ISO 9001: 2008 certified and many of its products are UL® recognized. For more information, please visit: http://www.L-com.com/.