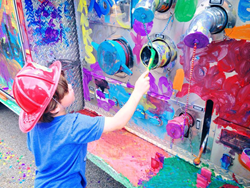 The Dania Beach Arts & Seafood Celebration was a great event for us, our participation generated many qualified leads resulting in over $25,000 in sales within the two weeks following the event.
Dania Beach, FL (PRWEB) May 02, 2014
Nearly 30,000 people visited Frost Park over the course of two days during the 2nd Annual Dania Beach Arts & Seafood Celebration hosted by the Dania Beach Community Redevelopment Agency (DBCRA). Attendance was more than four times the amount from last year's inaugural event. The event, held March 29-30th 2014, brought a variety of talented South Florida artists, musicians and restaurants to the Downtown Dania Beach area for the two day festival that featured fine artists and artisans, delicious seafood vendors as well as other treats, live performance art and numerous interactive art activities for all ages. "The event was specifically designed to enhance the quality of life and encourage economic development in Dania Beach," said DBCRA Executive Director, Jeremy Earle.
And, the impact of the event continues. This year's growth in participating vendors, art activities and attendance led to local business sponsors realizing sales growth. Bernie Gamboa, Director of Marketing, Dania Casino and Jai Alai and event sponsor said, "The impact of the event was a great opportunity for us to grow. We received about 250 visits from people who were at the event. It gave us the opportunity to bring in new members. We were very happy with the turnout." Storm Tight Windows Regional Manager, Mitch Feingold added, "The Dania Beach Arts & Seafood Celebration was a great event for us; our participation generated many qualified leads resulting in over $25,000 in sales within the two weeks following the event. We are looking forward to sponsoring this event again next year."
For the second year in a row Team Sandtastic, sponsored by Truly Nolan, took center court with a 100-ton pirate ship sand sculpture, proving that sand is a dynamic art feature and creating an air excitement in the atmosphere that was heartfelt. The team began the project on Thursday night to make sure the full sculpture was complete by Sunday and worked all day Saturday and part of Sunday as onlookers watched in awe as the sculpture took form, morphing throughout the course of the weekend. "All we use is sand and water, no cement mixes or fixatives are mixed in, and we never create the same sculpture twice," said Mark Mason of Team Sandtastic. For those who wanted a more hands on entertainment experience, the Sand Clinic was available for "kids" of all ages to practice their own sculpting techniques.
The interactive fun continued Saturday with "Impulse Art," a live performance by Uruguayan artist Daniel Pontet and the Hollywood Drum Circle created a fusion of music and painting with a unique twist. Visitors watched as the artwork came to life to the beat of the music as Daniel painted on canvas with his feet! Art N Soul performance artists Nathan Delinois and Darren Watson painted two original pieces during the weekend and were well received by patrons. DJ Royce Ivey of Dania Beach was also on hand at the Big Stage mixing sounds and entertaining patrons between acts. The Fronton Boulevard Arts Village – Fine Arts Treasure Cove featured a variety of fine art and crafts and was sponsored by Storm Tight Windows.
Students from the Art Institute donated their talent to capture the excitement of the weekend through both video and photography. They are producing a promotional video that will be used for marketing the 3rd Annual celebration in 2015. "This newly formed relationship with the Art Institute's Digital Film and Video Production Department and Dania Beach resident and professor, Kevin Smith, is another major step forward for the CRA nurturing community partnerships to embrace the creative arts industry in and around the City, again, enhancing the quality of life and encouraging economic development," said Jeremy Earle, DBCRA Executive Director.
Frost Park is located at 300 NE 2nd Street in Dania Beach, directly across from the Dania Casino and Jai Alai. For more information in this event, or to find out about upcoming Dania Beach CRA events, contact the Dania Beach CRA at (954) 924-6801.