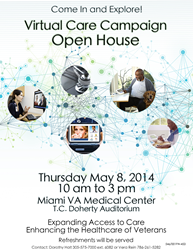 "We invite the community, especially Veterans and community healthcare providers to see the technology we have to offer patients throughout South Florida," said Dr. Erica Dombrowsky. "It's something that really sets VA healthcare apart."
Miami (PRWEB) May 05, 2014
Veterans used to travelling to downtown Miami for specialty care may now have another option for VA healthcare. By using technology like video-teleconferencing and secure email messaging, more than 23,000 Veterans in South Florida are getting care closer to home.
Veterans, community partners and other interested healthcare professionals are now invited to a VA Virtual Care Showcase at the Miami VA Healthcare System May 8 from 10 a.m. – 3 p.m. to see and learn how virtual care is changing healthcare for Veterans and medicine across the country.
"We are taking serious steps to be patient-centered at the Miami VA, and this is just another example of using technology to make healthcare easier and more convenient for our Veterans," said Dr. Erica Dombrowsky, Clinical Audiologist at the Miami VA Healthcare System. "Saving someone an all day commute from Key West for a routine 10 minute appointment can really be life changing for Veterans who don't live near Miami."
Since October of 2013, Veterans have saved an estimated 25,000 miles and 5,000 hours due to tele-health technology being available at their nearby clinics. The Miami VA Healthcare System sees more than 56,000 patients at seven locations from Deerfield Beach to Key West.
"We invite the community, especially Veterans and community healthcare providers to see the technology we have to offer patients throughout South Florida," said Dombrowsky. "It's something that really sets VA healthcare apart."
Media can RSVP with the Miami VA Office of Public Affairs at (305) 575-3399.