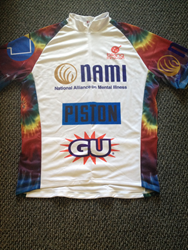 San Diego, CA (PRWEB) May 03, 2014
The National Alliance on Mental Illness (NAMI) and its San Diego affiliate will help cyclist Eric Ward take his passion for cycling and his passion for increasing understanding of mental illness on the road this Saturday as the racer starts a 3,000-mile bike ride for mental health awareness (https://www.indiegogo.com/projects/journey-of-endurance).
Ward, who has been diagnosed with schizophrenia, obsessive compulsive disorder, anxiety and depression, will ride 3,000 miles from San Diego, California to St. Augustine, Florida this May, the official month designated to support raising mental health awareness.
An avid racer who uses his passion to show that those living with a mental illness can still achieve remarkable goals, Ward will begin his ride May 3 at the San Diego County NAMI 5K Walk/Run in support of mental health awareness (http://www.namiwalks.org/sandiegocounty), wearing a Piston designed performance shirt with the hashtag #StrengthinHue" (http://www.pistonagency.com/strengthinhue).
Cycling is a positive coping mechanism that Ward discovered when he started riding his bike across town in lieu of taking public transportation. With his 3,000-mile ride, Ward hopes to inspire others to discover their own passions and successes. "An enjoyable and healthy activity, along with treatment, can lead to a better life," Ward said.
Ward chose to connect with NAMI San Diego because of positive interactions he has had with other NAMI affiliates (http://www.nami.org) in the past. Piston, a San Diego- and New York-based advertising agency, and NAMI joined forces and are co-sponsoring Ward's cross country ride. As part of the sponsorship, Piston matched all donations that Ward received through his independent fundraising.
"We are so happy to be the starting point for Eric's cross-country ride and look forward to sending him off with excitement, encouragement and a custom tie-dyed cycling jersey, said Shannon Jaccard, CEO of NAMI San Diego (http://www.namisandiego.org). We are proud to honor Eric's journey of recovery symbolized in his cycling expedition across the nation."
Research shows that fear and stigma are the largest barriers preventing people from seeking help for symptoms of mental illness. One in four American adults have mental illness, yet there are often long delays, sometimes decades, between the first onset of symptoms and a person actually receiving treatment.
To further help raise awareness, Piston has created "go tie-dye" for the San Diego County NAMI 5K Walk/Run and the entire month of May (http://www.namisandiego.org/strengthinhue). Just as people often wear pink in support of breast cancer awareness and red for heart health, the bright, bold colors of tie-dye celebrate individualism and mental diversity.
Piston calls this the "Strength in Hue" movement and is encouraging everyone to "go tie-dye" for the entire month of May. Piston is creating an extensive social media campaign that will deploy locally in San Diego and then move nationally to 1,100 other NAMI affiliates. "The idea is that just as no two colors are the same, no two tie-dye shirts are the same—just like no two people are the same. We are confident that incorporating a positive and very fun twist to mental health awareness will shift the perceptions that many people have about mental illness in the United States. This is the first of many groundbreaking concepts that will surface as a result of Piston's partnership with NAMI," said John Hartman, president of Piston.
About NAMI San Diego
Started in 1978, the National Alliance on Mental Illness (NAMI) San Diego affiliate is the city's voice on mental illness. It's a non-profit (501c3), grass roots organization of families and individuals whose lives have been affected by serious mental illness. NAMI San Diego offers free services to aid the community: phone helpline, support groups, educational meetings, outreach, advocacy and a number of classes on mental illness. 2014 marks the 10th annual NAMI Walks event.
http://www.namisandiego.org/strengthinhue
About Piston
Piston is a full-service digital agency located in San Diego and New York. Piston creates successful communications between brands and customers based on a deeper understanding of commerce, culture and technology. By connecting these three concepts, Piston builds and tracks brand relation¬ships that span all media, channels and marketing capabilities.