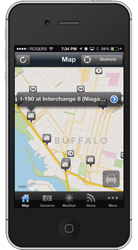 Mobile applications provide a distinct advantage over websites by being able to provide timely and comprehensive information to citizens on the devices they most frequently use - Chris Jackson
Vancouver, British Columbia (PRWEB) May 05, 2014
The Webtech 511 app allows government agencies who subscribe to Webtech Wireless's InterFleet GPS/AVL service to provide updates on snow clearing, parking restrictions, traffic updates and camera links, emergency weather information, and much more, right on a smart phone or tablet device. InterFleet's end-to-end solution provides the high frequency reporting and integrations needed to ensure the public is updated in real-time on what roads are safe to drive on.
"Mobile applications provide a distinct advantage over websites by being able to provide timely and comprehensive information to citizens on the devices they most frequently use," said Chris Jackson, Vice-President of Government Operations, Webtech Wireless. "By having state of the art mobile apps power the Webtech 511 solution, governments will be able to ensure transparency and accountability regarding their operations through real-time information and public updates."
The Webtech 511 application will be showcased at the American Public Works Association (APWA) Snow Show, being held May 4-7, 2014 in Cincinnati Ohio. Chris Jackson will be speaking in the Exhibitor Solution Theater on the Webtech 511 solution at 10:40 am EST on May 6, 2014. For further information, download the APWA Snow Show mobile app.
Purple Forge provides the mobile application services for the Webtech 511 solution. Purple Forge is a leading provider of mobile applications to municipalities in Canada and the US, including the cities of Buffalo, Long Beach, Calgary, Edmonton, Regina, Winnipeg, Vancouver, Ottawa, and Corner Brook.
"We are very proud to partner with Webtech Wireless on the delivery of the Webtech 511 solution," shared John Craig, VP Sales and Marketing of Purple Forge. "Citizens will benefit from the delivery of these mobile services and their ability to be reached by the government in emergency scenarios."
About Webtech Wireless®
Webtech Wireless (TSX:WEW) is a leader in providing fleet management telematics, GPS and automatic vehicle location (AVL) solutions that improve efficiency, accountability and reduce costs. Our end-to-end solutions automate record keeping and regulatory compliance, reduce fuel burn and idling, mitigate risk, and keep drivers safe. Managers trust us to ensure people are accountable and vehicles are visible. Through the cloud, in the office, or straight to mobile devices, we deliver Fleet Intelligence Anywhere™. Our products are InterFleet®, for government winter maintenance, public works and waste management fleets; and Quadrant®, for commercial fleet operations and compliance (HOS, EOBR). Please visit http://www.webtechwireless.com or contact:
Investor Relations
Trevor Greene
Chief Financial Officer
+1 604.628.5195
investors(at)webtechwireless(dot)com
Press and Media
Mike Cornford
Director of Marketing
+1 604.419.8162
press(at)webtechwireless(dot)com
About Purple Forge
Purple Forge (http://www.purpleforge.com) sells subscription based services to organizations looking to engage their stakeholders using the latest mobile application technology and leveraging community engagement and social networking best practices. Purple Forge is an award-winning firm led by seasoned mobile communications and Internet technology veterans. Our mobile applications allow organizations to broadcast, share, and receive feedback from their target audience real-time, allowing them to foster long-term, engaged relationships.
Contact
John Craig
john.craig(at)purpleforge(dot)com
# # #
All amounts in Canadian dollars (CAD$) unless otherwise noted. ·The Toronto Stock Exchange does not accept responsibility for the adequacy or accuracy of this release. ·Trademarks are the property of their owners.