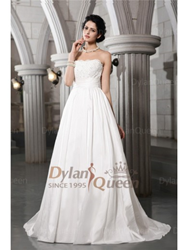 (PRWEB) May 09, 2014
Today, Dylan Queen announces its newest designs of evening dresses and cocktail dresses; the company manufactures and distributes trendy custom women's dresses for its customers worldwide. It plans to expand its market share by frequently adding newest designs to its product catalog.
"As a leader in the e-commerce industry and in the field of women's dresses, we have thousands of dedicated products in stock. We provide custom design for the global shoppers. We plan to develop a multi-lingual platform to serve our customers around the world, which will allow us to serve them better." The CEO of Dylan Queen says.
Dylan Queen is a reputed company in terms of wedding dresses and other special-occasion dresses. Some customers may complain that it takes a long time before they receive the goods. The CEO has specially introduced their delivery time. He says that standard receiving time (count from the date when a payment made successfully) is equal to the tailoring time (around 15-20 calendar days) and shipping time (around 3-8 calendar days).
The demand for women' dresses is huge. With the help of top designers and advanced dressmaking technology, Dylan Queen has recently restructured the dress industry in the international market. It has made a great success in the recent years and its global sales turnover has increased at a medium two digits per cent per annum.
About Dylan Queen
Dylan Queen is a reliable dress company. At its one-stop website, it offers a wide variety of chic dresses, including prom dresses, evening dresses, bridesmaid dresses, formal dresses etc. Its aim is to provide worldwide customers with fashionable gowns at acceptable prices. It frequently updates its website with new assortments.
For more details of the company and its products, please visit: http://www.facebook.com/iDylanQueen or http://www.dylanqueen.com/.