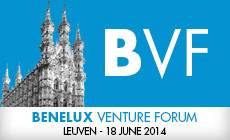 Brussels, Belgium (PRWEB UK) 5 May 2014
All successful young companies reach the point in time its management must choose to continue grow organically or find external capital to supercharge their business forward. Particularly for high-tech companies in today's global marketplace, rapid expansion and accessing capital early on can be critical to a business' international potential. But finding the right partner or investor remains a difficult and time-consuming challenge.
This June 18, network builder Europe Unlimited seeks to tackle this issue through the annual Benelux Venture Forum in Leuven. Set up as a celebration of entrepreneurial success in the Benelux region, the Forum showcases a selection of 40 strong high-tech companies from the region that seeks serious funding from international investors.
Leveraging international networks such as the International Venture Club, large corporations, international venture capital funds and business angels who are seeking the latest developments in the 8 key sectors as diverse as Financial Technology & Security, Energy Storage & Infrastructure & Biotechnology will take on Jury positions at the Forum. The Jury, which totals over 40 members, includes people from Aster Capital, BASF, Capricorn Venture Partners, DOW, DSM, Forbion, Gilde Healthcare, GIMV, Idinvest, Intel Capital, KLM, Newion Investments, PHS Fund, PMV, Prime Ventures, Oracle, Robert Bosch, Sofinnova Partners, Start Green and Time Equity Partners.
Positioned to highlight all the avenues towards growth, the full day program not only shows off the latest innovations & business models but also highlights important questions about financing growth with panels considering different kinds of equity and debt financing and features CEOs sharing their story of how they exited their companies through acquisitions and IPO's.
The Benelux Venture Forum is hosted by Capricorn Venture Partners, iMinds, KU Leuven R&D and Leuven.inc, sponsored by Agentschap Ondernemen, BDO, EIT KIC InnoEnergy, EIT ICT Labs, Flanders Investment & Trade and Provincie Vlaams-Brabant and counts on a large variety of industry support including the Belgian Venture Capital & Private Equity Association and Startups.be.
For more information please visit http://www.e-unlimited.com/bvf or contact:
Mr. Hugo Claessens
Lead Benelux Venture Forum
Tel: +32 479 09 55 10
hugo(at)e-unlimited(dot)com