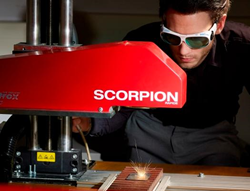 "Increasing our sales coverage with an experienced professional such as Bob, shows our commitment to providing excellent pre-sales service to our customers and also confirms our resolve to better serve the North American market."
Alpharetta, Georgia (PRWEB) May 08, 2014
Electrox Laser Marking Systems, recognized leader in the development and manufacture of premium quality, industrial-grade laser marking equipment for multiple industries (http://www.electroxlaser.com) today announced the appointment of Robert Shields to the position of Regional Sales Manager/Regional Business Development Manager, based out of Charlotte, North Carolina. The new position is recognition of the company's growth in new products and expansion in market share.
An industry veteran, Mr. Shields has over 25 years of experience in sales, including working with multiple laser marketing firms, both domestically and internationally. He brings not only deep industry knowledge to the position, but an ability to understand the needs of the customer and bring them cost effective solutions. His background includes direct experience in the automotive, medical, dental, electronic and semiconductor industries, with specialization in the jewelry, manufacturing and aerospace sectors.
Mr. Shields will be reporting to Michael Rauch, U.S. National Manager, and will be responsible for the Southeastern United States and the Caribbean. "Bob brings not only practical experience to the new position, but an understanding of multiple industries and how different applications can apply to our partners", said Mr. Rauch, "Increasing our sales coverage with an experienced professional such as Bob, shows our commitment to providing excellent pre-sales service to our customers and also confirms our resolve to better serve the North American market."
Mr. Shields will start in his new role immediately. "It's a great time to be joining Electrox. With new products and new solutions, we are poised to transform how whole industries use lasers. I'm excited to get started."
Watch the video The Electrox EMS300 workstation, ideal for large component and batch marking.
About Electrox
Electrox is a recognized leader in the development and manufacture of premium-quality, industrial-grade laser marking equipment. Over its 40 years in business, it has provided solutions across multiple industries, including automotive, industrial and medical manufacturing. Within its broad product line, it offers yb:Fiber lasers, Vanadate units, CO2 laser and UV solutions. Coupling these lasers with its range of workstations allows Electrox to provide turnkey solutions for nearly any application.
More information about Electrox is available at http://www.electroxlaser.com.