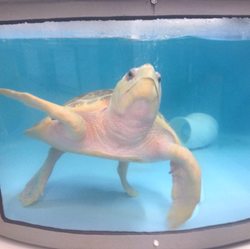 CHARLESTON, S.C. (PRWEB) May 05, 2014
Grab a friend and head out to see the first public sea turtle release of the year. Huntington, a 177-pound loggerhead sea turtle, will be returned to the ocean at 4:30 p.m. today, May 7, 2014 at the Isle of Palms County Park. The release is being held in partnership with the South Carolina Department of Natural Resources (SCDNR) and the Charleston County Parks and Recreation Commission (CCPRC). Attendees should plan to carpool, arrive early, and expect to pay for parking at the county park.
More about Huntington:
Huntington was seen floating and unable to dive in the waters off Huntington Beach State Park by a family and friend boating in the area last May. Recognizing that the large loggerhead was unable to dive and in trouble, the group successfully brought the turtle aboard the boat and contacted SCDNR. Upon admittance to the Aquarium's Sea Turtle Hospital, it was determined that Huntington was anemic and had abnormally low levels of protein in the blood. Radiographs revealed an intestinal impaction and excessive gas in the intestines which caused the buoyancy disorder. Treatment included vibrational therapy, enemas, fluids and tube feeding of mineral oils to break up the impaction, which passed approximately four weeks after admission. Additional care included antibiotics, vitamin supplements and a healthy diet. Huntington is now robust, healthy and ready to return to the Atlantic Ocean.
You too can help threatened and endangered sea turtles. If you find a sick or injured sea turtle, contact the SCDNR sea turtle hotline at (800) 922-5431. You can also help care for sea turtles in recovery in the Aquarium's Sea Turtle Rescue Program by going to scaquarium.org and making a donation and by visiting the South Carolina Aquarium and booking a behind-the-scenes tour of the Sea Turtle Hospital.
To track the progress of current patients in recovery, visit our Sea Turtle Rescue Program blog at scaquarium.org. Be sure to follow us on Facebook and Twitter for the latest updates from the hospital, including public sea turtle release details.
For all media inquiries, please contact Kate Dittloff at (843) 579-8660 or kdittloff(at)scaquarium(dot)org
About the South Carolina Aquarium Sea Turtle Rescue Program:
In partnership with the South Carolina Department of Natural Resources (SCDNR), the South Carolina Aquarium Sea Turtle Rescue Program works to rescue, rehabilitate and release sea turtles that strand along the South Carolina coast. Located in the Aquarium, the Sea Turtle Hospital admits 20 to 30 sea turtles each year. Many of these animals are in critical condition and some are too sick to save.
According to SCDNR, over the last 10 years the average number of sea turtle standings on South Carolina beaches each year is 133. Of these, roughly 10% are alive and successfully transported to the Sea Turtle Hospital. To date, the South Carolina Aquarium has successfully rehabilitated and released 133 sea turtles and is currently treating 5 patients. The average cost for each patient's treatment is $36 a day with the average length of stay reaching nine months.
About the South Carolina Aquarium:
The South Carolina Aquarium, Charleston's most visited attraction, features thousands of amazing aquatic animals from river otters and sharks to loggerhead turtles in more than 60 exhibits representing the rich biodiversity of South Carolina from the mountains to the sea. Dedicated to promoting education and conservation, the Aquarium also presents fabulous views of Charleston harbor and interactive exhibits and programs for visitors of all ages.
The South Carolina Aquarium, a 501(c) (3) not-for-profit organization and is open Daily from 9 a.m. to 6 p.m. The Aquarium is closed Thanksgiving Day, half day Dec. 24 (open 9 a.m. to 1 p.m.) and Dec. 25. Admission prices are: Toddler's (3 and under) free; Youth (4-12) $14.95; Adults (13+) $24.95. The Aquarium plus the 4-D Theater experience is free for Toddler's, $19.95 for Children, $29.95 for Adults. The 4-D Theater experience only is $6.95 for Children and adults, and free for Members. For more information call 843-720-1990 or visit scaquarium.org. Memberships are available by calling 843-577-FISH.