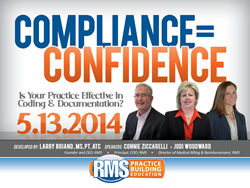 Sturtevant, WI (PRWEB) May 06, 2014
Physical Therapy Practices that are non-compliant with 3rd party payor rules and regulations run the risk of post-review audits, Medicare audits, penalties, or in the worst case scenario, being criminally penalized due to inaccurate or fraudulent billing. Rehab Management Solutions (RMS), a Physical Therapist owned-and-operated company that grows practices through proven operations and systems, will educate therapists nationally on how to protect themselves from such penalties through their educational web event "Compliance = Confidence: Is Your Practice Effective at Coding & Documentation?" on Tuesday, May 13, 2014 (12:15pm – 1:15pm CST).
The goal of the educational web event is to help Physical Therapists understand their professional responsibility of compliant documentation & coding. Topics in the hour-long virtual course will include:

How to avoid the top 5 audit flags
The 5 different types of notes and documentation requirements for each
How to recognize the importance of documenting medical necessity and the need for skilled care
The ten 97000 Physical Medicine and Rehabilitation Code sets
By remaining compliant with all documentation and coding requirements, Physical Therapists can have peace of mind that their practices are protected.
Registration for the live event is available at: http://www.rehabmgtsolutions.com/may-2014-documentation-coding-webinar. If a therapist is unable to attend live, a recorded version will also be offered at a later date. Cost of the course is $69.95. Continuing education credit for Physical Therapists and Physical Therapist Assistants have been submitted for approval in several states.
Rehab Management Solutions is a PT-owned and PT-led company that focuses on helping PTs and OTs open, manage and grow practices. RMS offers a suite of services including Billing and Accounts Receivable Management, Practice-Building Education, Industrial Rehab Programs, Marketing, and Mentoring. For more information, contact CEO Larry Briand, MS, PT, ATC at lbriand(at)rehabmgtsolutions(dot)com, or COO Connie Ziccarelli at cziccarelli(at)rehabmgtsolutions(dot)com.