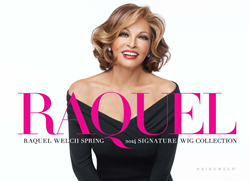 This new spring collection incorporates the latest advances in fiber, coloring, and wig construction.
(PRWEB) May 07, 2014
Raquel Welsh, in collaboration with HairUWear, has launched its 2014 spring collection and it's now on VogueWigs.com. With five wigs to choose from, looking good has never been easier.
The Raquel Welch Wig collection was created thirteen years ago. Since then, it has become one of the most popular wig brands worn around the world. This new spring collection incorporates the latest advances in fiber, coloring, and wig construction.
Always on the go? On the Move is a short, no-fuss wig that was made for busy bees on a tight schedule. This boy-cut is the epitome of low-maintenance hair: it just needs to be combed and it's ready for the day.
Pitch Perfect is a short and sleek style that's longer and requires little to no maintenance. Even though styling the wig is effortless, any woman wearing it may still be mistaken for a fashion magazine editor like Vogue's Anna Wintour.
Knocking out a crowd takes a good amount of charisma, which may explain how the Crowd Pleaser got its name. While this wig's short length gives it spunk, its large waves make it glamorous enough for the red carpet. Whether the occasion is a ladies night out or a fancy business dinner, the Crowd Pleaser is versatile enough to please anybody.
Spotlight Elite is a high-end wig that features delicate fibers individually knotted by hand. This long-length wig has a natural-looking lift and feathery layers. Since it's made with Tru2Life synthetic hair, it can be styled in a variety of ways using the proper heating tools.
For the grand finale, the Grand Entrance wig is the collection's most luxurious item. This wig style features long, fine layers of 100% human hair attached to a Memory Cap base. Silky, velvet ear tabs and an extended nape complete the experience.
Want to know more?
For more information on this collection, visit http://www.voguewigs.com.
About Voguewigs.com:
VogueWigs.com offers the best collection of high-quality wigs and hairpieces. For every woman who wants the hair of her dreams, VogueWigs.com is here to help her get it.