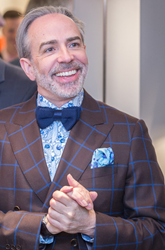 "There is no beauty without function," said Santalla, during the interview. "They all go hand in hand; they're interchangeable. I can't see one without the other."
Washington, DC (PRWEB) May 07, 2014
Owner Ernesto Santalla of Studio Santalla was recently featured on the April 19th segment of the Hispanic AGENDA (link: http://www.wjla.com/articles/2014/04/hispanic-agenda-4-19-2014-102231.html), Washington DC's only bilingual news program. In the segment, Ernesto Santalla discussed his wide range of interests and roles as a Latino within the regional community, as a business owner, and as the President of the Capital Area Gay and Lesbian Chamber of Commerce, CAGLCC (http://www.caglcc.org/).
Santalla began his interview on the Hispanic AGENDA by detailing his credentials as an owner of the architectural and interior design firm, Studio Santalla. The award-winning firm is focused on the quality of space, which is achieved through a careful balance of function and aesthetics.
"There is no beauty without function," said Santalla, during the interview. "They all go hand in hand; they're interchangeable. I can't see one without the other."
He went on further to explain that his interest in architectural design began when he was 16 years old. Even though budgetary concerns of clients come into play amid all projects, Santalla emphasizes that Studio Santalla achieves high-end results through the careful combinations of all the aspects of the project.
"I do want to have my cake and eat it too," quipped Santalla.
Additionally, Santalla promoted the recently held Gala Dinner, "Indulge in Business Excellence," by the Capital Area Gay and Lesbian Chamber of Commerce, which occurred on April 25th at the Mayflower Hotel. During the dinner, top leaders within the LGBTA communities were honored.
When Santalla was asked to define LGBTA on AGENDA, he explained that it included the lesbian, gay, bisexual, transgender, and allied communities.
"People who support the cause?" asked the host, Alejandro Negrón.
"Well, people who are our friends," clarified Santalla.
The segment ended with Santalla signing off as a guest, clad in a gray designer suit, looking fashionable as an activist in the Latino communities, design communities, architectural communities, and LGBTA communities – truly, a Jack of All Trades.
For more information about Ernesto Santalla or Studio Santalla, please visit http://www.studiosantalla.com/.
About Studio Santalla
Ernesto, president of Studio Santalla, inc., was born in Cuba and received a degree in Architecture from Cornell University in 1984, following which he moved to Washington, DC, and became a registered architect. Since then, he has contributed to the changing skyline of DC and worked on projects in the United States, Puerto Rico, and Europe. His work has been widely published and received numerous awards.