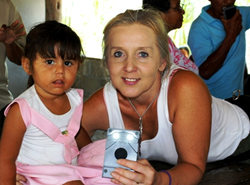 Nearly 1000 people die each day from burns caused by kerosene lamps, most of them are children
(PRWEB) May 06, 2014
In a recent interview, Audrey Cochran, Director of the Grid Earth Project, discusses how small solar lights are changing lives around the world. Rotary Radio International is a weekly radio show hosted by Dave Diffendal that features works and projects of Rotarians around the world. In this issue Dave discovers the amazing power of a small solar light. Click here, to hear the interview.
The Grid Earth Project utilizes a small but powerful solar light to replace dangerous kerosene lamps and other unsafe light sources that are being used to light homes around the world. Approximately one fourth of the planet is living without access to safe light. The result is devastating on a global scale.
Nearly 1000 people die every day from burns caused by the kerosene lamps. Most of the victims are children. Thousands more endure serious injuries. More than two million people die from respiratory failure caused by toxic fumes emitted by unsafe light sources.
Through the use of solar powered LED lights, the Grid Earth Project is helping to decrease these numbers. Not only are these lights making the lives of children safer, they are providing a springboard to a better future. Most children living in these conditions do not have adequate light for reading after sundown. Providing adequate light helps children gain an education. The key element in breaking the cycle of poverty that most of them live in.
Listen in as Dave and Audrey discuss this amazing project that is helping light the world and to "Light Up Rotary".
Visit: http://www.LightIsForEveryone.org to find out more.