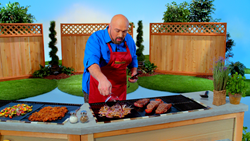 Springville, Utah (PRWEB) May 06, 2014
For those who love to grill outdoors but hate the messy clean up afterward, the original Miracle Grill Mat™ offers a 100 percent non-stick solution just in time for warm weather barbecues and holiday celebrations. Miracle Grill Mat not only wipes clean, but also delivers grilling perfection – ensuring meat, fish and veggies won't stick or fall into the grill.
Made of safe, non-toxic, PFOA-free material, it can be reused thousands of times and comes with a five-year warranty.
"Everyone loves to barbecue but cleaning the grill afterward can be a real nightmare," said Marc Gill, television personality and Miracle Grill Mat spokesperson. "Now those in charge of the grill can spend more time enjoying family and friends at outdoor gatherings – and also take their grilling skills up a notch – with the original Miracle Grill Mat. No more broken fish filets and no more food lost through the grate!"
A highly sought-after television personality, Gill has been seen on shopping channels like HSN and is known for his blend of humor, culinary skills and product demonstration talents.
"With Miracle Grill Mat, not only is clean up a snap, but food retains those appetizing sear marks and that juicy, flame-cooked flavor – it's the perfect grill every time!" he said.
The smooth, completely non-stick surface of Miracle Grill Mat can also transform an outdoor grill into a versatile cooking station. It can be used to easily cook bacon and eggs, hash browns, pancakes, grilled-cheese sandwiches and countless other items…outdoors! Not just for backyard barbecues, it's perfect for tailgating, picnicking and camping.
>> Bonus Gift: Miracle Baking Mat Lets You Bake in Oven or Microwave Without Sticking
Order the original Miracle Grill Mat and also receive a special bonus gift: Miracle Baking Mat is perfect for baking in the oven or microwave, with no need for fats or sprays to prevent sticking. Now cookies, brownies and other baked goods will slide right out of the pan.
>> Get Two Miracle Grill Mats and the Miracle Baking Mat for Just $19.95 + Free Shipping
With warm weather holidays like Memorial Day and July Fourth approaching and Father's Day just around the corner, Miracle Grill Mat is a great gift for any grilling enthusiast. Order and receive two Miracle Grill Mats and the special bonus gift Miracle Baking Mat – a $40.00 total value – for just $19.95 with free shipping.
The original Miracle Grill Mat is available only online. To order, go to Miracle Grill Mat and also check out the special Miracle Skewers additional offer.

Sales tax will be added to UT & CA orders. AK, HI, PR, AS, GUAM add additional $4.95 S/H per order. Canadian orders add additional $7.95 S/H per order + applicable GST/Duties.
Please allow 10 to 15 days for standard shipping.