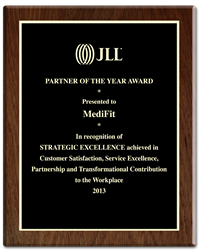 "The MediFit team 'owns the outcome,'" JLL explained in the awards overview. "Their team is energetic, creative and talented; they collaborate daily at the site level and their leadership governance is excellent."
Florham Park, NJ (PRWEB) May 06, 2014
MediFit is pleased to announce that it is the recipient of the 2013 Jones Lange LaSalle (JLL) "Partner of the Year Award" in recognition of strategic excellence achieved in customer satisfaction, service excellence, partnership and transformational contribution to the workplace.
The award was presented at the JLL annual Strategic Supplier Summit on April 3, 2014. JLL's Supplier Partner Awards recognize top supplier partners in their Supplier Relationship Management program, designed and aligned specifically at Intuit.
JLL's Partner of the Year Award criteria states that the award goes to a partner that is strategic to Intuit's growth and has displayed excellence in consistently achieving high customer satisfaction; delivering outstanding performance; and bringing a transformational contribution to the workplace.
"The MediFit team 'owns the outcome,'" JLL explained in the awards overview. "Their team is energetic, creative and talented; they collaborate daily at the site level and their leadership governance is excellent."
"It's exciting to work so closely with JLL in our quest to meet Intuit's objectives around their health and fitness strategy," said Kristine Holbrook, Senior Vice President at MediFit. "It's clear that such a relationship has encouraged each party to continuously innovate and approach challenges with a learning mindset. We are proud to partner with such a forward-thinking organization."
On hand to accept the award were three MediFit team members, Tamara Nagy, Director, Employer Health & Wellness Services, Marie Kendy, MediFit's onsite Account Manager, and Cynthia Miranda, Program Manager.
"We are honored to receive the JLL award," said Tamara Nagy. "Our team works closely with our partners at JLL to provide Intuit and their employees with a superior experience. We are incredibly proud of the many MediFit team members who contributed in ways that led to MediFit receiving this prestigious award."
About MediFit
MediFit Corporate Services, Inc. (MediFit) is a privately-held fitness and wellness management and consulting company. MediFit designs and manages corporate fitness centers, community and medical fitness centers and wellness programs throughout the United States and in three countries. MediFit is headquartered in Florham Park, New Jersey, with an additional corporate office in Norwalk, Connecticut.
For more information, go to http://www.MediFit.com. Follow us on twitter @MediFitCorp and like us on Facebook at http://www.facebook.com/MediFitCorporateServices.