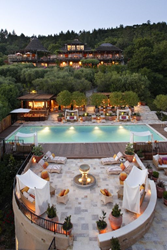 "He is the ideal executive to deliver best-in-class financial governance and optimize the economic potential of our hotels." said Craig Reid, CEO Auberge Resorts
Mill Valley, California (PRWEB) May 06, 2014
Auberge Resorts, owner and operator of boutique luxury hotels, resorts, residences and private clubs across North America, has appointed Claude Brock Chief Financial Officer. Brock will lead and direct the company's financial reporting and analysis, budgeting and capital planning activities. He will also be charged with developing and implementing a technology road-map for Auberge Resorts and supporting the company's expansion initiatives.
"A seasoned professional of Claude's caliber will be a great asset to our team," said Craig Reid, Chief Executive Officer, Auberge Resorts. "He is the ideal executive to deliver best-in-class financial governance and optimize the economic potential of our hotels."
Brock will support the company's existing operations, provide leadership to enhance the portfolios financial performance, capitalize on business opportunities and propel future growth to allow full realization of enterprise value for Auberge Resorts. "Claude is a highly respected industry expert with an impressive track record that is underscored by his excellent working relationship with investors and business partners," said Mark Harmon, Managing Partner, Auberge Resorts.
Brock joins the Auberge Resorts team following a 20-year tenure with KSL Resorts, where he was Director of Operational Finance. He oversaw all aspects of operational accounting, procurement, information technology and internal audit for a portfolio of 2,900 rooms, 68 F&B outlets, 55 retail outlets and 11 golf courses. Brock had an active role in several significant transactions, including the sale of KSL Recreation Corporation to CNL Hotels in 2004. During his tenure as KSL's Western Region CFO, he oversaw all accounting, purchasing and information technology functions for Grand Wailea Resort, Claremont Resort & Spa, and La Quinta Resort & Club. A graduate of California State University Chico, Brock began his career in the hospitality industry at Wyndham Hotels & Resorts, where he worked in the accounting departments at The Copley Plaza in Boston and the Wyndham Palm Springs Hotel.
About Auberge Resorts
Auberge Resorts is a collection of exceptional hotels, resorts, residences and private clubs, each with a unique personality that assures a memorable guest experience. While Auberge Resorts nurtures the individuality of each establishment, all are characterized by a set of communal elements: intimate, understated elegance; captivating locations that inspire exceptional cuisine and spa experiences; and gracious yet unobtrusive service. Among the Auberge collection of distinctive properties are: Auberge du Soleil, Napa Valley, Calif.; Calistoga Ranch, Napa Valley, Calif.; Solage Calistoga, Napa Valley, Calif; Esperanza, Cabo San Lucas, Mexico; Hotel Jerome, Aspen, Colo.; the Malliouhana Hotel & Spa, Anguilla; The Auberge Residences at Element 52, Telluride, Colo.; and Pronghorn Resort, Bend, Ore., with several others currently in development. For more information about Auberge Resorts, please visit http://www.aubergeresorts.com/. Follow Auberge Resorts on Facebook at facebook.com/AubergeResorts and on Twitter at @AubergeResorts.