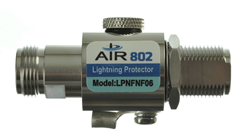 While providing excellent electrical surge protection capabilities, this high-quality model also keeps inter-modulation distortion (IMD) at a minimum through tri-metal plating.
Aurora, IL (PRWEB) May 07, 2014
Timely for the springtime and summertime storms, AIR802 introduces model LPNFNF06, a new N female to N female coaxial lightning arrestor or surge protector supporting 0 to 6 GHz. Unlike typical protectors, this model is tri-metal plated which minimizes intermodulation distortion (IMD) and is corrosion resistant.
Protecting wireless equipment, buildings, and lives could not be more important in coaxial cables run outdoors. This model has a 90 vdc breakdown voltage, 0.5 dB low insertion loss at 6 GHz, and maximum 1.5 VSWR. It is equipped with a ground lug supporting up to 10awg ground wire.
A L-shaped bracket for mounting the protector is included. More detailed information on model LPNFNF06 is available on the AIR802 website.