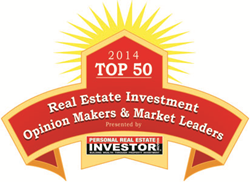 Maverick Investor Group is the industry leader in helping people buy performing residential investment property in the best real estate markets
Dallas, TX (PRWEB) May 07, 2014
Maverick Investor Group was named one of the "Top 50 Real Estate Investment Opinion Makers and Market Leaders" for 2014 by Personal Real Estate Investor Magazine, the leading U.S. print publication for individual real estate investors. Maverick received the award at a national awards luncheon in Dallas, Texas. This is the second consecutive year that Maverick has won the award.
"Maverick Investor Group is the industry leader in helping people buy performing residential investment property in the best real estate markets", said Andrew Waite, Publisher of Personal Real Estate Investor Magazine.
"Maverick has created a completely unique value proposition whereby busy professionals can now buy and hold deeded freehold real property in out-of-state markets without the time-consuming headaches of rehabbing or landlording", said Associate Publisher Bob Rakowski. "Maverick clients get access to cash-flowing properties—with tenants and local property management in place—and are able to diversify across markets as they build their rental property portfolios over time", said Rakowski.
Maverick clients are also provided with customized consultations to assess their individual financial goals as well as a suite of related services including access to tax professionals, asset protection specialists, preferred lenders and other experts to assist in the real estate investing process.
"Maverick is focused exclusively on helping individuals build their wealth through buying and holding turn-key real estate," said Matt Bowles, a founding Partner of Maverick Investor Group. "Our clients like the comfort of owning hard assets, generating passive residual income, and being in direct control of their own financial future", said Bowles.
Maverick works with clients ranging from first time real estate investors to professional investors. While most real estate companies are very transactional in nature, Maverick is focused on long-term relationships with all clients. Over 75% of Maverick clients purchase a second property or refer a friend or family member to purchase a property within 6 months of closing on their first property.
About Maverick Investor Group
Maverick Investor Group is run by investment property specialists who provide each client with customized support in building a portfolio of cash-flow properties over time. Maverick clients are provided access to private buying opportunities for performing rental properties in the most investor-advantaged real estate markets. For more information visit Maverick Investor Group.